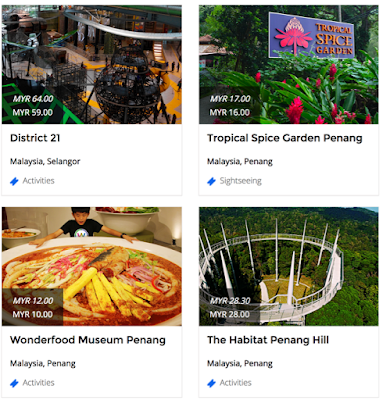 Buy Cheap Discounted Tickets @ Wonderfly
Do you know that you can avoid paying full price for ticket price at many attractions such as Underwater World Langkawi, TeddyVille Museum Penang, Dark Mansion Penang, I-box Glass Museum and others by buying your ticket online using
Wonderfly
?
Wonderfly is an online ticketing platform for all things entertainment at unbeatable price. Other than attractions in Malaysia, you can also buy discounted tickets for Hong Kong Disneyland, Hong Kong Ocean Park, Hong Kong Ngong Ping 360 etc. This is because Wonderfly actually offer one of the cheapest e-ticket price for theme park, zoo and aquarium, activities, day tour, shows and performances in Malaysia, Singapore, HK, Thailand, Japan & South Korea! Click here for full list of attractions.
How to purchase an e-ticket?
Register an account with Wonderfly.
Search for your desired attraction e-ticket.
Select the ticket package, visit date and quantity of tickets.
Check-out with your particulars & payment.
Once done, e-ticket will be sent to your e-mail.
Redemption method
After your purchase, please check your registered e-mail for your e-ticket. Follow the instruction on 'REDEMPTION', either show the e-ticket in soft copy or hard copy at the ticketing booth.
Link
---
This is a companion discussion topic for the original entry at
http://harga.runtuh.com/2018/09/how-to-get-discounted-ticket-price-entertainment-park.html