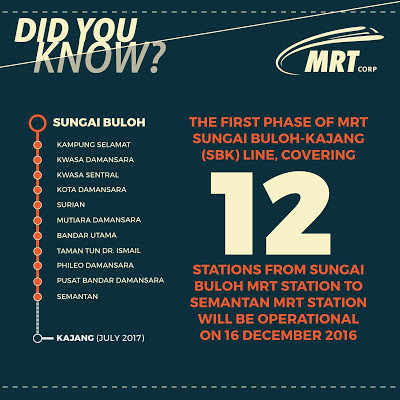 Malaysia MRT Free Rides on Sungai Buloh-Kajang Line MRT Trains & Feeder Buses
SUNGAI BULOH: The much-awaited Klang Valley MRT has kicked off, providing fast and efficient public transport to city folks at RM2bil less than the targeted cost.
Adding to the good news is that the public can enjoy a month of free rides on all the trains and feeder buses along Phase One of the Sg Buloh-Kajang (SBK) MRT Line.
From 6am today, 24 trains – each comprising four carriages that are able to carry 1,200 passengers – will ferry commuters to 12 stations located between Sungai Buloh and Semantan.
Prime Minister Datuk Seri Najib Tun Razak said the project, which took five years to build, was not just completed on time but below budget at a cost of about RM21bil, RM2bil less than the initial target of RM23bil.
"As a New Year gift to the rakyat and to give everyone an opportunity to try out this new, modern and efficient mode of public transport, I hereby announce that Rapid Rail will give free MRT service from tomorrow (Friday) for one month, including the feeder bus services.
"Malaysia MRT Fares will only be implemented from Jan 17," said Najib.
Sungai Buloh - Semantan Line MRT Stations & Feeder Bus Service Routes
Phase 1 covering 12 stations between Sungai Buloh and Semantan with train frequency of 3 minutes: Route No Origin (MRT Station) Destination T100 Station MRT Sg. Buloh Hospital Sg. Buloh T101 Station MRT Sg. Buloh Bukit Rahman Putra T102 Station MRT Sg. Buloh Kg. Paya Jaras - (Kubu Gajah) T104 Station MRT Kampung Selamat Kg. Baru Sg. Buloh T801 Station Kwasa Damansara Seksyen 7 & 8 Kota Damansara T802 Station MRT Kwasa Sentral Subang Bestari T803 Station MRT Kwasa Sentral Seksyen 6 Kota Damansara T804 Station MRT Kwasa Sentral Subang Perdana T805 Station MRT Kota Damansara Seksyen 6 Kota Damansara T806 Station MRT Kota Damansara Selangor Science Park T807 Station MRT Surian Mutiara Tropicana T808 Station MRT Surian Seksyen 11 Kota Damansara T809 Station MRT Mutiara Damansara Damansara Perdana T810 Station MRT Mutiara Damansara Bukit Lanjan T811 Station MRT Bandar Utama Kolej Bandar Utama T812 Station MRT Bandar Utama TTDI North / Kg. Sg. Penchala T813 Station MRT TTDI SS22 Petaling Jaya T814 Station MRT TTDI TTDI T815 Station MRT Phileo Damansara University Malaya T816 Station MRT Phileo Damansara SS2 Petaling Jaya T817 Station MRT Pusat Bandar Damansara Mid Valley T818 Station MRT Pusat Bandar Damansara Seri Hartamas T819 Station MRT Pusat Bandar Damansara KL Sentral T820 Station MRT Pusat Bandar Damansara Menara DBKL T821 Station MRT Semantan Kompleks Mahkamah Jln. Duta Tambang MRT Malaysia Fares Ticket Price Sungai Buloh - Semantan Line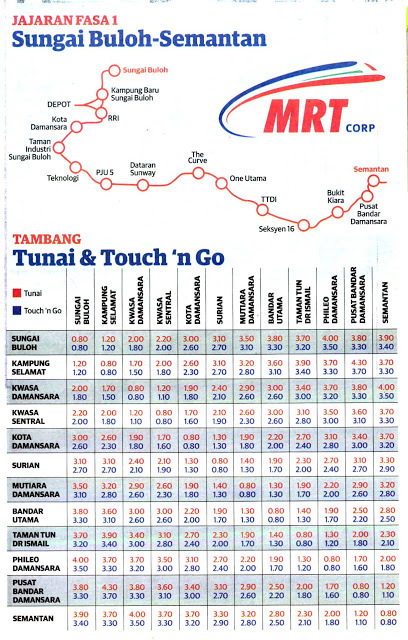 ---
This is a companion discussion topic for the original entry at
http://harga.runtuh.com/2016/12/free-mrt-rides-feeder-bus-malaysia-mrt-fares.html