1 Utama ONECARD Member: Pablo Cheesetart Mini Matcha Cheese Soft Serve RM2.90 (Normal Price: RM11.90) Weekdays 15 - 31 March 2017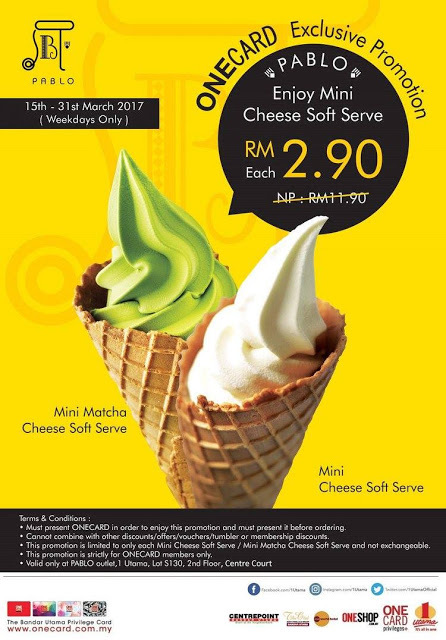 1 Utama Pablo Cheesetart Mini Matcha Cheese Soft Serve Discount Promotion
ONECARD Exclusive: Enjoy Mini Cheese Soft Serve for only RM2.90 each.
Pablo Cheesetart Malaysia ONECARD Promo Terms & Conditions
Must present ONECARD in order to enjoy this promotion and must present it before ordering
Cannot combine with other discounts / offers / vouchers / tumbler or membership discounts.
This promotion is limited to only each Mini Cheese Soft Serve / Mini Matcha Cheese Soft Serve and not exchangeable.
This promotion is strictly for ONECARD members only.
Valid only at PABLO outlet, 1 Utama (Centre Court).
Link
---
This is a companion discussion topic for the original entry at
http://harga.runtuh.com/2017/03/1-utama-onecard-member-pablo-cheesetart-mini-cheese-soft-serve-discount-promo.html