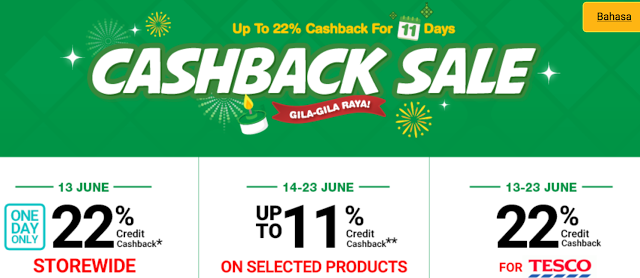 11street Malaysia Credit Cashback Storewide Raya Sale Discount Offer Promotion
Don't miss your 22% Credit Cashback from today & have a Gila-Gila Raya! #gila2raya11street #11streetmy
13 June: 22% Credit Cashback* Storewide (One Day Only)
14 - 23 June: Up to 11% Credit Cashback** on Selected Products
13 - 23 June: 22% Credit Cashback for TESCO
11 Street Malaysia Gila-gila Raya Sale Promo Terms & Conditions
Credit rebate capped at RM50
Credit rebate will be issued on 10 July 2017 at 11am (for confirmed purchases only)
Terms & Conditions Apply.
* Mobile Top-Ups and Physical Vouchers excluded
** 5% cashback storewide except for Mobile Top-Ups and Physical Vouchers
Celebrate Hari Raya with the Gila-Gila Raya Sale on 11street
From the month of Ramadan till Raya, we have lined up an exciting array of the best bargains in town. We hope to make the Ramadan and Hari Raya celebrations more meaningful with the services we offer.
Pay Less, Get More Value for this coming Ramadan and Raya Cashback Sale
Enjoy up to 22% Cashback or shopping rebates in the form of 11street shopping credits with every purchase during this 11-day long sale! Enjoy price cuts on selected brands while stocks last and limited Free Shipping Coupons! Get some last-minute shopping done and purchase the perfect gift for your loved ones when you 'balik kampung'.
Why Nothing Can Beat the 11street Gila-Gila Raya Sale
From before Ramadan till Raya, enjoy prices as low as RM1 on more than 60 leading brands.
Up to 22% Cashback for every purchase during the promotion period which you can easily redeem.
Experience stress-free shopping straight from your smartphone and enjoy even more benefits like free shipping selected items.
Link
---
This is a companion discussion topic for the original entry at
http://harga.runtuh.com/2017/06/11street-storewide-22-credit-cashback-raya-sale-promo.html