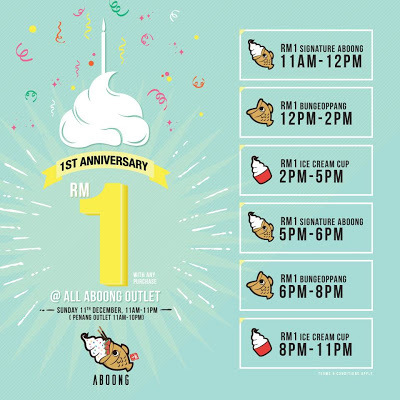 Aboong Malaysia 아붕 Frozen Yogurt Ice Cream Discount Promo
ABOONG: The fantastic combination of Korean's most loved three desserts, Fish Bun, Yogurt Ice Cream and Chocolate Fondue
Aboong is having its 1st year Anniversary this coming Sunday and we would like to take this opportunity to thank all our supporters by giving out a RM1 deal !! Just make any purchase in our menu and the RM1 will be applicable with products within the time period. Remember our date this coming Sunday and we will see you all soon !! It's available at all Aboong outlets.
Aboong Malaysia Outlet Location & Address
Subang Jaya: 49(G), Jln SS15/8A.
Penang: Lot 3F-09, Queensbay Mall.
KL: 16-1, Jln Radin Bagus 8, Bdr Baru Sri Petaling.
Link
---
This is a companion discussion topic for the original entry at
http://harga.runtuh.com/2016/12/aboong-chocolate-fondue-yogurt-ice-cream-fish-bun-discount-promo.html