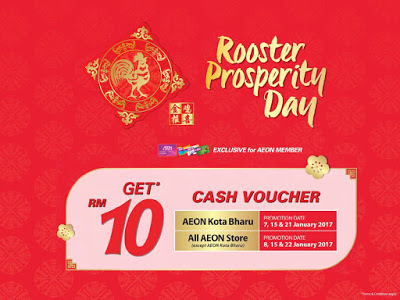 AEON Malaysia Free Cash Voucher During Rooster Prosperity Day Member CNY Promotion
Dear AEON MEMBERs,
Shop to your heart's content this Chinese New Year as AEON Rooster Prosperity Day is here!
Get* RM10 AEON Voucher when you spend RM100 and above (excluding GST) @ AEON General Merchandise Stores (GMS).
Mark your calendar now, the more you shop, the more you save!
Log on to link for more info.
#AEONLuckyRooster
*Terms & Conditions apply.
---
This is a companion discussion topic for the original entry at
http://harga.runtuh.com/2017/01/aeon-member-rooster-prosperity-day-cny-free-cash-voucher-promo.html