Apple iPhone 7 Malaysia Price Cut: 32GB RM2899, 128GB RM3169 & 256GB RM3469
iPhone 8 release date, specs and price: Launch date 'confirmed' as 512GB variant leaks
Apple's 10th anniversary iPhone could debut in less than three weeks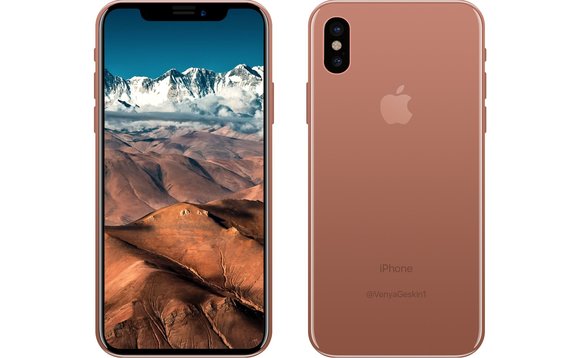 iPhone 8 in Copper Gold
WE'RE NOW A LESS THAN A MONTH away from the unveiling of the iPhone 8, and thanks to a multitude of online leaks, we know pretty much all there is to know about the incoming flagship.
The iPhone 8, tipped by some to arrive as the 'iPhone Edition' or 'iPhone X' will be Apple's 10th-anniversary smartphone and looks set to be the first to debut wireless charging tech, a curved AMOLED display and an unusual vertical dual rear-facing camera. If rumours are to be believed, the so-called 'Edition' will launch alongside the less-impressive iPhone 7S and 7S Plus.
We've rounded up everything we know about the iPhone 8 so far and will update this article as soon as we hear more.
Apple iPhone 8 Global Launch Date: 12 September 2017, Malaysia Release Date: Early October 2017
The iPhone 8 will be unveiled on 12 September, according to a report at Mac4Ever.
However, some reports claim that it might not be available to buy until the fourth quarter, noting that the iPhone 8 may be available in limited quantity only. A note by analyst Timothy Arcuri from Cowen and Company has added weight to this and claims that production could be delayed due to issues with its Touch ID sensor.
Another report suggests the iPhone 8 may not arrive until 2018. A research Deutsche Bank, picked up by Business Insider, claims the smartphone won't make it onto shelves this year due to supply chain issues and "technical challenges".
As if just to confuse matters more, Digitimes is reporting that mass production of the iPhone 8 is on schedule and that the smartphone will see a release in October.
Apple iPhone 8 Malaysia Price: Starting From RM4,699 (to be confirmed)
If it's anything like Apple's new MacBooks, next year's iPhone will be more expensive than this year's release, and some are claiming that the highest-spec model will be the first iPhone to cost more than $1,000.
A new report at Forbes claims that pricing could start at an eye-watering $1,100 to $1,200, with Apple to offer the handset in 128GB and 256GB configurations only.
Rumoured specs
5.8in 2.5D OLED edge-to-edge display
New design with an 'all-glass' construction
71x143x7.4mm
Wireless charging support
Apple A11 chip
Rear-facing Touch ID sensor
iOS 11 with improved Siri, P2P payments
Face-scanning technology
Vertical dual cameras on rear
Support for LTE speeds up to 450Mbps
Source: the inquirer