Switch: TWELVE.TWELVE.TWELVE!
.
Are you ready for our craziest CLEARANCE SALES yet?
.
All of this is happening tonight at 12am!
See you there!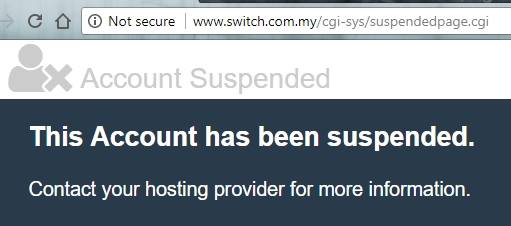 Raja Nazri: Seriously u guys aren't even ready for your own promotion XD
Ken Gtn: I am waiting on your website. Your website keep auto log me in with someone's account - Jackson. Is that someone hacking your website? Which means when I purchasing later could had became he purchased instead of me?
Jonathan Lee: I saw my friend full info from the data leakage ,
He owe me money damn 7 long edi ,thanks to you Switch !! For letting me know his house address
Btw ,Im sure he will sue 9 your company on his personal data leaks
Jonath Wai Leong: This is so serious…personal data and address contact number all leaked… when you press address and info everyone's data is there
Boon Boon: Switch Malaysia you should give a good answer to your loyalty customer when they try to support. But your website suddenly changed to unstable started 11.55pm. Why i know because I started login on 11am. Before 12.30am, I refresh your page every 15min. After 12.30am I refreshed every 5min. 12.40am I refresh every min. Until 12.55am all my login page changed to other ppls name until now unable to refresh your page!!!
Switch: We have received feedbacks from you and we thank you for this feedback. We are currently assessing the situation, the website is currently down and not assessable by anyone. We will provide an update once we have confirmation of diagnostics from our Server Provider.
The Switch Online 12.12 Event continues…
12th December 2017 , 12pm