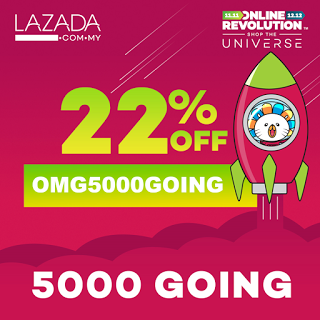 Lazada Voucher Code Malaysia Online Revolution 11.11 Discount Offer Promotion
WE HAVE REACHED 5000 GOING! Here are the voucher code for 22% off to use next 11 November during Online Revolution!
Lazada Promo Code available only on 11 November 2017, limited to RM50, App platform only and to limited number of users. TnC apply.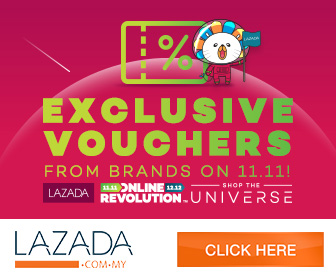 Lazada Voucher Code: SDOR90

11% OFF, MAX RM90
APP or WEB
ALL (New & Existing User)

Lazada Voucher Code: SCOR90

11% OFF, MAX RM90
APP or WEB
ALL (New & Existing User)

Lazada Voucher Code: MILK90

11% OFF, MAX RM90
APP or WEB
ALL (New & Existing User)

Lazada Voucher Code: SBOR90

11% OFF, MAX RM90
APP or WEB
ALL (New & Existing User)

Lazada Voucher Code: FLIPOR70

11% OFF, MAX RM70
APP or WEB
ALL (New & Existing User)

Lazada Voucher Code: CUPON70

11% OFF, MAX RM70
APP or WEB
ALL (New & Existing User)

Lazada Voucher Code: UNIVERSE70AF

11% OFF, MAX RM70
APP or WEB
ALL (New & Existing User)

Lazada Promo Code: SHOPOR33

RM33 OFF, Minimum Spend RM150
APP or WEB
ALL (New & Existing User)

Lazada Promo Code: SHOPOR11

RM11 OFF, Minimum Purchase RM50
APP or WEB
ALL (New & Existing User)

Lazada Promo Code: OMG5000GOING

22% OFF, MAX RM50
APP only
ALL (New & Existing User)

Lazada Voucher Code: UNVRSE7VQ2

11% OFF, MAX RM80
APP or WEB
ALL (New & Existing User)

Lazada Code Malaysia: PTORY90

11% OFF, MAX RM90
APP or WEB
New Customer only

Lazada Malaysia Promo Code: FBP20U

11% OFF, MAX RM70
APP only
ALL (New & Existing User)

Lazada Discount Code: IA90

11% OFF, MAX RM90
APP only
NEW Customer only

Lazada Discount Code: FB15ORLP

15% OFF, MAX RM50
APP or WEB
ALL (New & Existing User)

Lazada Discount Code: FPRLBO11

11% OFF, MAX RM50
APP or WEB
ALL (New & Existing User)

Link
---
This is a companion discussion topic for the original entry at
http://harga.runtuh.com/2017/11/complete-list-of-lazada-voucher-code-malaysia-online-revolution.html