Calvin Kwok: First time encounter people in 1 U, which claims the car parking bay can be booked.
I walk out from the car and courtesy ask this gentlemen why standing there while I am in que for that car park bay, the response " I already BOOK here. I already STAND here. I am WAITING my FRIEND to come here. He was LOOKING for a car park. You can TAKE my photo whatever."
So here you have it, the handsome guy that make my day @ 1 Utama. Interestingly, we was there debating more than 20 mins and no security guard at all.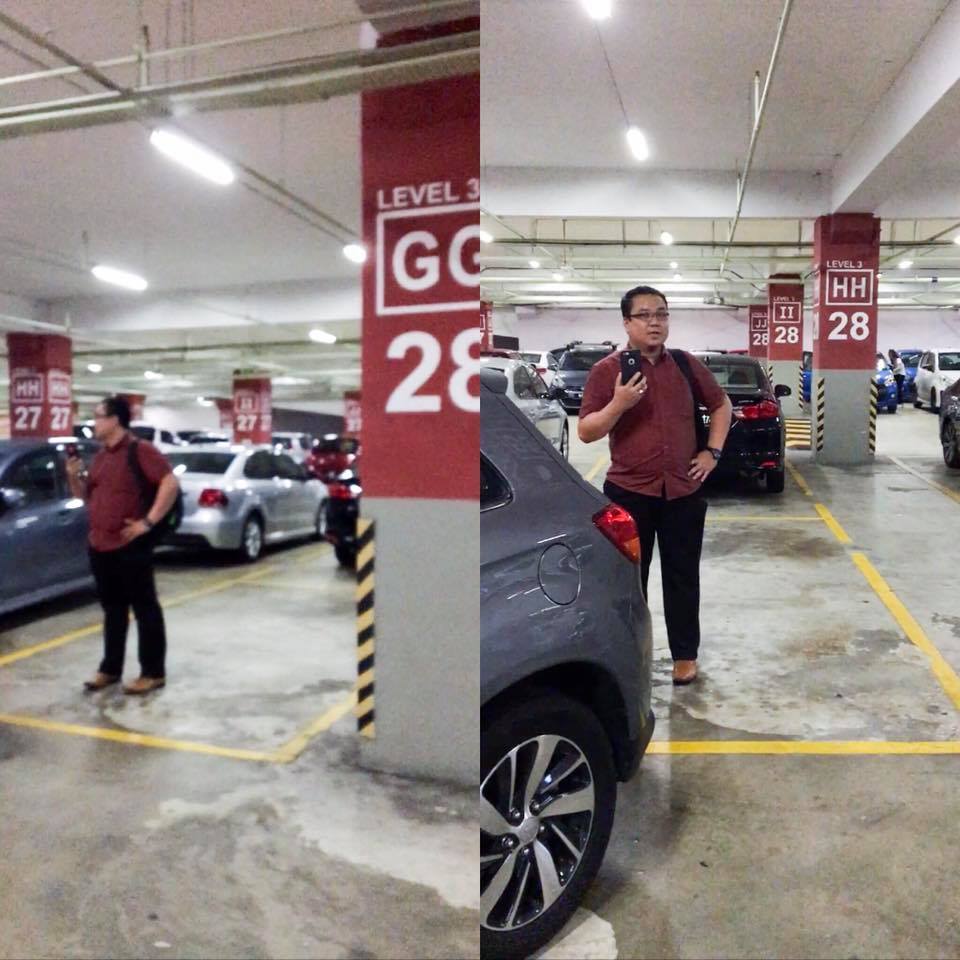 Calvin Kwok: Unusual Saturday Life @ 1 Utama Car Park area. Moreover, there are part 1 & 2 stories, more excited than watching movie (we supposed to watch FF8 movie, end up wasted and the movie displayed at the car park area):-
Part 1 - The Appetizers
It was about 6.45pm reach 1 Utama Car Park area (Old Wing), so as usual have to make a few rounds to find the car park bay. After several minutes we manage to find it, BUT, after the car left, a guy come out of nowhere, give a hand signal to us said no available.
At my mind was like "WTF - this happened again me after a few years back!" I know that this guy will be doing his best to "SAVE" this car park bay, so I will also do my best to "IRRITATE" this guy.
I park the car in front of him, walk out, then questioning him "Boss, why you are standing there, so dangerous you know, and you are blocking the car park bay." He replied " I have booked this place, you have to find another car park bay." My mind is like "WOW, since when 1 Utama implement this system, by using a human reserve the car park bay???" So I continue to irritate him "Boss, how you can book the car park bay, I also want to book next time, and, may I took a video of you so I can show the media and social, as well as 1 Utama management about this arrangement? " This guy also don't give damn as expected, then he also filming me la, MACAM YES and DIDN'T FEEL GUILTY AT ALL. So we both filming each other like move "The Blair Witch Project" style. Then he continue saying " I already BOOK here. I already STAND here. I am WAITING my FRIEND to come here. He was LOOKING for a car park. You can TAKE my photo whatever."
So as mentioned, I know this parking will be giving out because of this guy's arrogant attitude, and therefore, I film him closely saying "I leave this car park to this Moron, as people said is BOOKING." Lastly I offer him a handshake to say give him this car park bay.
I didn't know why I did the handshake moment, but, honestly, at my mind telling me to vomit this word out "STOP CB la". But as you know la, LIFE GOES ON, so continue to carry parking lot. But, we never know this hype is happening again, and it comes the second part.
Part 2 - Dinner
We are rounding & rounding finding parking, and the idiot is still standing in the car park bay. At a point of time we saw a Mer Benz (MB) facing the same situation and wanted to park the place, the idiot remains as status quo like CAPTAIN AMERICA standing there with pride. So we just drive pass the MB car asking to wind down the mirror, as I wanna tell that this idiot we have some debate just now so you may wanna look for another place. Unfortunately, the MB didn't wind down so didn't pass this message
Finally we manage to find the car park bay (after 15 mins). And, we walk pass by see this MB had park the place where we have debated just now. From far away we saw this MB owner (a lady like 40's IMO la) walk out from the car. So I assumed the idiot was RESERVE this car park bay to her. I took the HP out and took the photo. Then WOW, she notice it so approach me to educate me "Why took photo, you know is wrong or not la, bla bla bla…" I replied "Is it you just now ask your friend or husband RESERVE this car park bay?" So she denied it and keep educating me like children (feel like threatening us during the conversation).
We assume that she might not be partner of that idiot who RESERVE the car park, so I ask her calm down and I want to show her the video what's happening before you park this park to avoid the conflict/confuse. Turns out differently, she twisted saying I don't believe you by showing the video. I want to say is not right to take the photo, then I don't know what you are going to do. You know I'm staying @ Tropicana and you all act like kid filming people RESERVE the car park bay. Let me call my husband now.
At the phone conversation we overheard she twisted the story like we are the stalker kind. Keep saying very dangerous here. Just now ask me wind down the window la so scared what the BOY gonna do la. Said wanna go Bukit Aman to do police report la (again a few times of threatening, but I just remained calmed see what she can twist the story). My wife told me just stay away, let her communicate with this MB owner (women talk will be more appropriate I guess~).
So both got communicated, and still claims she not satisfy the answer. Mentioned she is "DATIN" and not believing us. Said I can ask my husband come now la but I know this place is crowded so is not necessary. I know the situation will be prolonged. I approach her to apology, saying these are all misunderstanding. I just told her with my last breath (at that point of time, because is starving for dinner already…) that I am courtesy wanna tell you what's the story behind this, and if you feel offended I am sorry about the inconvenience.
Thought this would be an END, you never know the POWER of LADY ok! So she calls husband again telling the same SHIT again, OMG"!!! 5 min conversation finished, she asks me to call to the husband. So I just follow her instruction.
Called the husband, greet him, and I started by telling him is misunderstanding and when I am going to start the explanation, the husband "You know you all wrong OK, what you doing is wrong, bla bla bla… (continue educating so I know to tell la). Well, the conversation is dominated by him 90%, but I know I am gonna to swallow it already. Who knows, there are 2 interesting parts he questioning:
"You guys took the photo didn't see what's the car plate number meaning? Hellooooooooo, you thought I am genius when see the car know who you are ???
" I dunno what you guys gonna do with by gal, and you all like acting bullied her." *Fuyoh, now who was the one kena bullied from starting till end" I replied to him "Sorry boss, I am not interested in your GAL at all, and I am with my wife now that are wanting to take our sweet time at the mall only."
I manage to explain the incident in summary to him for the last 10%, I guess he lazy to entertain it then say alright and immediately hang the phone. We all walk towards the mall together and walk apart when reached the department store. Less than 10 mins we walk back to our car and leave this place.
Part 3 - Dessert (What have I learnt)
Always have a clear mind what you are doing, especially those people who using their body to RESERVE the car park. If you think is RIGHT, I hope you are living well, to continue promoting this RESERVE CAR PARK culture to your family, friend and family. Perhaps you can propose the RESERVE CAR PARK by standing at car park bay action to government authorities to legalise it?
No matter how bad the situation, stay firm and don't get confused by people. Know Your Rights. Be Courageous. Be Bold. Be Strong. Or in short - STOP CB pls