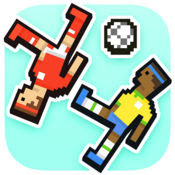 Soccer Physics iOS Mobile App Game Free Download (Limited Time Promotion)
One-button soccer game! So dumb it's fun.
Winner of 'Best Multiplayer Game' IMGA award
"Soccer Physics is probably the funniest football game you'll play on iOS" — PocketGamer
Free Soccer Physics Features
Two players, one screen
One-button controls
Craaazy physics
Random modes, outfits & hair styles
Endless mode
Optional two-button controls (for up to 4 players!)
Record, watch & share replays (iPhone 4S or newer required)
How to Play Soccer Physics
Tap the button to jump and kick. You control both your soccer players with just one button. Kick the ball into your opponent's goal to score.
Link to iTunes App Store
---
This is a companion discussion topic for the original entry at
http://harga.runtuh.com/2017/05/download-free-soccer-physics-ios-mobile-app-game.html