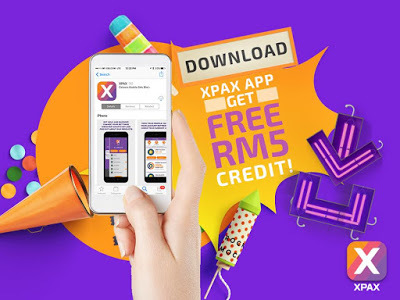 Xpax App FREE Credit Download Promotion
Stay in touch with your loved ones with free credit! Download Xpax App TODAY and get FREE RM5 credit.
Just follow these simple steps to get the Xpax App and FREE RM5 credit!
Download the Xpax App.
Login to the app, or register for a new account. You can also login as a guest.
Once you're done, you'll receive an SMS to notify your RM5 FREE credit is on its way.
You'll get your FREE credit within 48 hours.
Xpax App Free Credit Frequently Asked Questions
What is the criteria for the customer to be eligible for the free RM5 credit?
First time ever download and login to the Xpax App
The download and login must be performed on the specific days during the campaign period
Have never login to Xpax App before the campaign period
What can the free RM5 be used for? FREE RM5 credit can be used for any usage, e.g. Internet plan subscription, local call/SMS, IDD etc. Will I have extra 5 days credit validity when I receive the RM5 free credit? No, the free RM5 credit DOEST NOT come with the 5 days validity and your credit validity will remain as per your current credit validity after the credting of thre free RM5 free credit. If I have multiple phone numbers under the same user name in Xpax app, am I eligible for the free credit for all the phone numbers? No, the RM5 free credit is eligible for one user only, based on one unique IC or passport number registered, regardless of the number of registered xpax account (phone number) that customer has.
Download Link: Apple App Store, Google Play Store
---
This is a companion discussion topic for the original entry at
http://harga.runtuh.com/2016/10/download-xpax-app-to-get-free-credits.html?m=0