Dunkin' Donuts 10% Discount (A-la Carte) When You Pay with Touch 'n Go Card Until 31 December 2016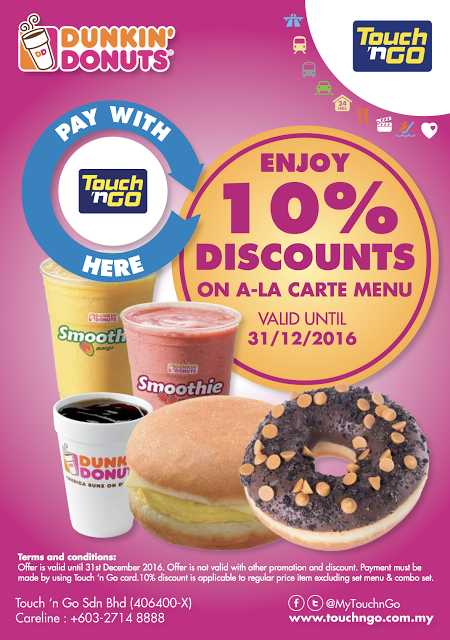 Dunkin' Donuts Malaysia 10% Discount Promotion Using Touch n Go Card During Payment
Enjoy 10% Discounts on A-la Carte Menu
Dunkin' Donuts Malaysia Touch 'n Go Card Promo Terms & Conditions
Offer is valid until 31 December 2016.
Offer is not valid with other promotion and discount.
Payment must be made by using Touch 'n Go card.
10% discount is applicable to regular price item EXCLUDING menu set & combo set.
Terma & Syarat Promosi Dunkin' Donuts Malaysia & Touch 'n Go
Tawaran sah sehingga 31 Disember 2016.
Tawaran tidak sah digunakan bersama promosi dan diskaun lain.
Pembayaran harus dibuat menggunakan kad Touch 'n Go.
Diskaun 10% untuk barangan harga tetap TIDAK TERMASUK set menu & set combo.
Link
---
This is a companion discussion topic for the original entry at
http://harga.runtuh.com/2016/10/dunkin-donuts-malaysia-touch-n-go-card-discount-promo.html