Join our free morning lecture or talk, hosted by CreativeMornings KL featuring Bea Leong from Rex Kl!
Register a free seat here: https://creativemornings.com/talks/bea-leong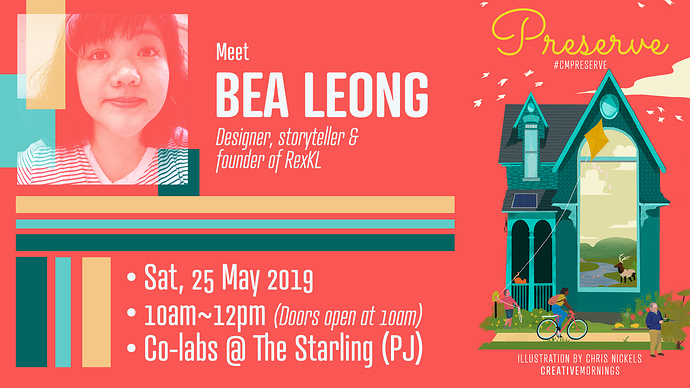 About CreativeMornings:
In 2008, Tina Roth Eisenberg (Swissmiss) started CreativeMornings out of a desire for an ongoing, accessible event for New York's creative community. The concept was simple: breakfast and a short talk one morning a month. Every event would be free of charge and open to anyone.
Today, attendees gather in cities around the world to enjoy fresh coffee, friendly people, and an international array of breakfast foods. Volunteer hosts and their team members organize local chapters that not only celebrate a city's creative talent, but also promote an open space to connect with like-minded individuals. The growing archive of past breakfast talks is humbling. From design legends to hometown heroes, speakers are selected by each chapter based on a global theme.
CreativeMornings remains free thanks to the support of local partners, generous venues, and longterm global partners. Everyone is welcome. Everyone is creative. Just register beforehand to reserve your spot. Remember to set your alarm, and we'll see you in the morning!
~~
About this monthly Event:
This wonderful May we focus the conversation on conservation.
What is the place of old culture in a modern society?
Bea Leong explores the role that heritage plays by walking with the community that lives it daily. She curates the lived expressions of the history, practices and traditions of the community around her, centred on the space in REXKL. More than the preservation of a physical space, Bea works to place REXKL to be a home and champion for the intangible treasures of KL. Come hear the unconventional way that Bea is conserving what makes us a community.
Things to note:
Bring Your Own Cup/Mug! We have for you, so support

#ZeroWaste

by bring your own cup/mug/tumbler.
Doors open at 10am for coffee, mingle and network. Talk/Lecture starts at 11am.
Check out our sponsors, and say thank you~!
Check out our local booths, support them, support local!
~~
About the Speaker
Designer by education, but storyteller by heart, Bea Leong (b. 1984) is always on the lookout for new perspectives to enhance her world view.
Having spent a significant number of her formative years abroad, she has cultivated an avid interest in travel, the environment, history, people and more close to home, her Borneo-Malaysian heritage and culture.
With almost a decade's experience in the film and TV industry, Bea has worn many hats – production assistant, prop master, writer, director – but has found firm footing as a producer for lifestyle/factual TV content, working on both local and international projects ranging from commercials, independent films, TV programs, and documentaries.
With her sharpened skills as a quick-thinking and resourceful organizer, Bea has now set her sights on creating content in different mediums for communities, drawing from her extensive experience and diverse influences to execute a vision that is creative, inclusive, and sustainable.