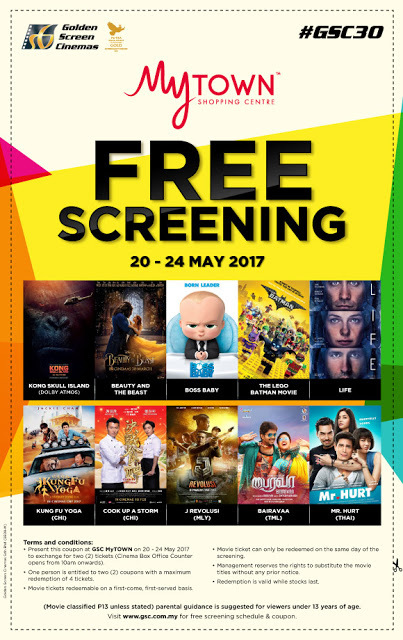 GSC Cinema Free Screening Movie Ticket Coupon Promotion @ MyTOWN Shopping Centre
Celebrating the opening of GSC MyTown, we will be having FREE SCREENING from 20 - 24 May! Print out the voucher above to claim free movie ticket! See you guys there.
GSC Movie Voucher Free Screening Redemption Terms & Conditions
Free Screening Coupon must be printed to exchange for two (2) tickets at GSC MyTOWN on 20 – 24 May 2017. (Cinema Box Office Counter opens from 10am onwards)
One person is entitled to two (2) coupons with a maximum redemption of 4 tickets.
Movie tickets are redeemable on a first-come, first-served basis.
Movie tickets can only be redeemed on the same day of the screening.
Redemption is valid while stocks last.
GSC MyTOWN Free Screening Schedule
Free Movies: Life, The Boss Baby, Kong: Skull Island, J Revolusi, Bairavaa, Beauty And The Beast, Cook Up A Storm, Kung Fu Yoga, The Lego Batman Movie, Mr. Hurt)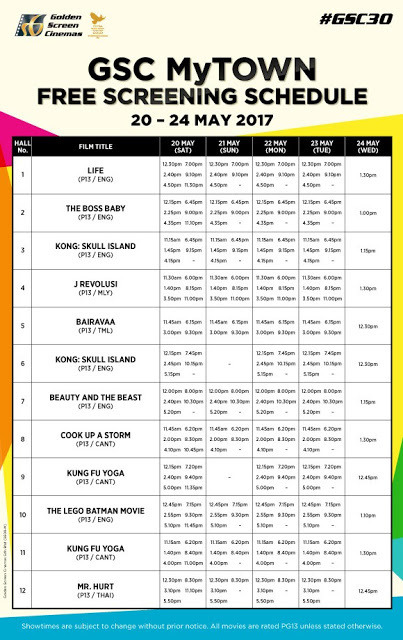 Link
---
This is a companion discussion topic for the original entry at
http://harga.runtuh.com/2017/05/free-gsc-movie-screening-coupon-voucher.html