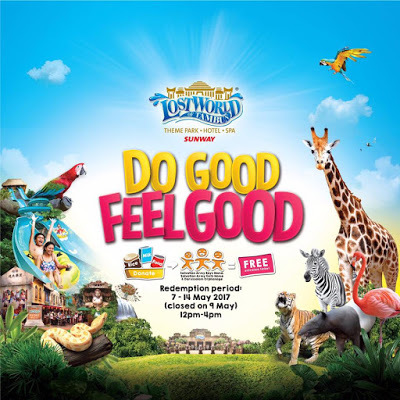 Lost World Of Tambun Free Entrance Tickets Redemption Do Good Feel Charity Donation Campaign Promotion
We're reaching out to your kind and giving nature Malaysians are famous for.
Be charitable and donate food items to the Do Good Feel Good campaign, all proceeds will go to the Darussalam Orphanage, The Salvation Army Boys Home and The Salvation Army Girls Home in Ipoh.
We'll thank you with FREE entrance tickets to Lost World Of Tambun. #LostWorldOfTambun #DoGoodFeelGood #Charity
Redemption Period: 7 – 14 May 2017, from 12:00pm – 4:00pm (Closed on 9 May)
DO GOOD LIST OF ITEMS NEEDED Do Good Feel Good: Redeem a FREE ticket to Lost World Of Tambun when you donate items from the DO GOOD item list
Rice
Milo 3-in-1
Horlick 3-in-1
Milk Powder
Assorted Biscuits
Assorted Canned Food
Breakfast Cereals
Peanut Butter or Jam
Instant Noodles
Lost World Of Tambun Free Tickets Promo Terms & Conditions
Donations must be Halal certified and worth of RM 20.00 and above.
The expiry date of the donated items must be from August 2017 onwards.
Please present original MyKad / MyKid / I-Card for wristband redemption.
The wristband is only valid on the redemption date and is not exchangeable or resale.
Only one (1) ticket redemption is allowed per person.
Link
---
This is a companion discussion topic for the original entry at
http://harga.runtuh.com/2017/05/free-lost-world-of-tambun-entrance-ticket-promo.html?m=0