While the event itself is free, please note that there is entrance fee (RM1 for adult) to the park and car without FRIM sticker (RM5 per car).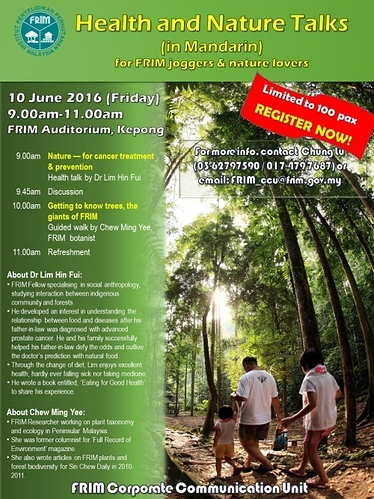 23 May 2016 (Monday) – Forest Research Institute Malaysia (FRIM) will organise health and nature talks in Mandarin on 10 June 2016 at its Auditorium, FRIM, Kepong, for regular joggers and nature lovers, particularly FRIM's recreational pass holders.
The aim of this programme is to promote healthy lifestyle; enhance awareness on the significance of natural environment to our health and general well-being; as well as the importance of FRIM campus. It is also part of FRIM's outreach activities to promote community support in its pursuit of the UNESCO World Heritage Status.
FRIM Research Fellow Dr Lim Hin Fui will talk on 'Nature – for cancer treatment and prevention', while FRIM Botanist Chew Ming Yee will conduct a guided walk around the campus to introduce the giants (important trees) at FRIM.
Lim, who is a sociologist, developed a deep interest in understanding the relationship between food and diseases after his father-in-law was diagnosed with advanced prostate cancer many years ago.
He and his family successfully helped his father-in-law to defy the odds and outlive the doctor's prediction by changing lifestyle and diet, taking only natural food.
As a result of the change, Lim and his family also enjoy good health. In 2007, he wrote a book entitled, 'Eating for Good Health' to share his family's experience. He also gives talks on the subject to cancer patients, carers and members of the public upon invitation by hospitals, public agencies and non-governmental organisations.
Chew is a Research Officer working on plant taxonomy and ecology in Peninsular Malaysia. Passionate about her job, she shares her knowledge freely through writing and giving public talks on voluntary basis.
She was a columnist for 'Full Record of Environment' magazine and also wrote about FRIM plants and forest biodiversity for a column in Sin Chew Daily in 2010-2011.
Those interested to attend the programme may register by emailing their full name and contact details to frim_ccu@frim.gov.my. Participation is free of charge and limited to 100 pax only.
Priority will be given to FRIM recreational pass holders and registration will be based on first come, first served. For queries, please contact Chung Lu or An Nee at 03-62797590 / 017-479 7687).