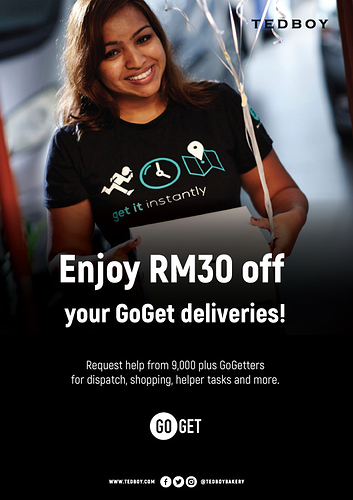 Have you met a GoGetter delivering you Tedboy's products or any other parcel?
GoGet is our trusted partner to ensure your orders are delivered in perfect condition, straight to your doorstep. And this time around, we've partnered up with our friends at @GoGet.my to help you enjoy even more convenience!
Enjoy RM30 off your GoGet deliveries!
Request help from 9,000 plus GoGetters for dispatch, shopping, helper tasks and more.
Use promo code below on GoGet's website.
Promocode: GOGETXTED30
Value: RM30 off (RM3 off x 10 GoGet jobs)
Validity: Until 1st Jan 2019 only
How to redeem: http://bit.ly/redeemgogetpc
Website: http://bit.ly/gogetpagextedboy