The future of cloud is now, at Google Cloud Summit.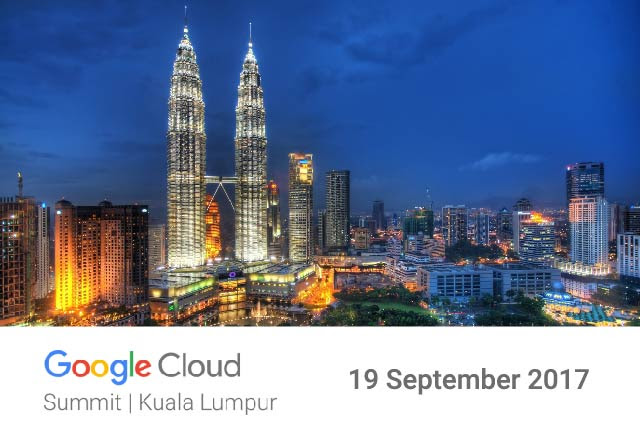 19 September 2017 One World Hotel
Explore new ideas. Learn from industry experts. Engage with peers. Join us for an immersive event that brings together executives, customers, partners, developers, IT decision makers, and Google Engineers to build the future of the cloud. Choose from sessions on Google Cloud Platform, G Suite, Maps, Devices, and more.
Imagine

What was once considered impossible is now being rewritten. Innovation is accelerating because of what cloud can already do — it's now your imagination that will drive what's next.

Learn

Engage with the foremost minds leading the cloud revolution and learn how the modern enterprise is benefiting from the latest in cloud technology in unprecedented ways.

Build

Join our community of visionaries, developers, tech advocates, enterprise partners, and global customers to build for tomorrow.
Content tailored to you
Sessions tailored to your interests and focus areas. Choose from 15 dedicated visionary, strategic, technical, and experiential sessions about all things cloud, including:
Your Google Cloud Summit in Kuala Lumpur experience
Join the largest Google developer and IT gathering in Kuala Lumpur to explore the latest developments in cloud technology. Choose from 15 dedicated visionary, strategic, technical, and experiential breakout sessions about all things cloud.
Schedule Agenda
Tuesday, September 19
7:30AM - 9:15AM
Registration
9:15AM - 9:30AM
Doors Open
9:30AM - 11:00AM
Plenary Session
11:00AM - 11:45AM
Morning Break
Track 1 - Infrastructure & Data
Track 2 - Collaboration & Integration
11:45AM - 12:25PM
Google Cloud Compute Options: Where Should I Run My Code? Deciding Between Compute Engine, Container Engine, App Engine and More
Speaker: Dambo Ren
Securing your Collaboration with G Suite
Speaker: Yoshiki Sato
12:25PM - 12:55PM
Sponsor Session
Sponsor Session
12:55PM - 2:00PM
Lunch
Lunch
2:00PM - 2:30PM
Google Cloud Storage Options: Where Do I Store My Data? Deciding Between Object Storage, NoSQL, and Relational Storage
Speaker: Richard Coombes
G Suite Activity Reporting with Big Query
Speaker: Jay Jenkins
2:30PM - 3:00PM
Sponsor Session
Sponsor Session
3:00PM - 3:30PM
Network Infrastructure in Google: 10+ Years of Capacity Growth Explained
Speaker: Etsuji Nakai
IOT Core: Secure Device Connection and Management
Speaker: James Wu
3:30PM - 4:00PM
Explore, Clean, and Prepare your data with Dataprep and Dataflow
Speaker: Markku Lepisto
Data Protection and Regulatory Compliance
Speaker: Aruna Withane
4:00PM - 4:25PM
Afternoon Break
Afternoon Break
4:25PM - 5:00PM
Kubernetes and Istio: Connecting, Managing, and Securing Microservices
Speaker: Craig Box
Building your Organisation in the Cloud with IAM and VPCs
Speaker: Marc Fong
5:00PM - 5:40PM
Machine Learning - Cluster It, Query It, Transfer it
Speaker: Naoya Moritani
Location-powered, on-demand economy with Maps
Speaker: Clinton Libbey
5:40PM - 6:00PM
Closing | Prizes
Closing | Prizes
*Agenda subject to change.
Free Online Registration: https://cloudplatformonline.com/Summit-Kuala-Lumpur-2017-Register.html