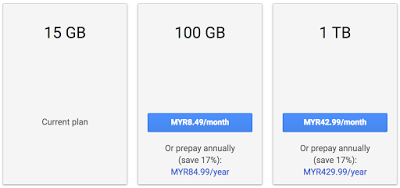 Google Drive Annual Subscription Plan Discount Promotion
If you are paying for Google Drive upgrade plan every month, you should switch to the recently launched annual subscription plans as you will only need to pay for 10 months and get 2 months free. Previously there are only monthly plans where you will be charged every month. Now there are annual subscription options for 100GB & 1TB plans where you will be charged upfront for 10 months and get additional 2 months FREE.
Google Drive Plans
100 GB Google Drive Plan: RM8.49/month Or
prepay annually (save 17%): RM84.99/year
1 TB Google Drive Plan: RM42.99/month Or prepay annually (save 17%): RM429.99/year
Upgrade Your Google Drive Storage Your storage is shared across
Google Drive

Store files up to 5TB each. Anything you create with Docs, Sheets, or Slides won't use up any of your storage.

Gmail

Attachments sent and received in Gmail as well as your email messages use your storage.

Google Photos

Per your Google Photos settings, High Quality uploads are stored for free but Original quality uploads will consume your Drive storage.
Link
---
This is a companion discussion topic for the original entry at
http://harga.runtuh.com/2017/01/google-drive-annual-subscription-plan-discount-promo.html