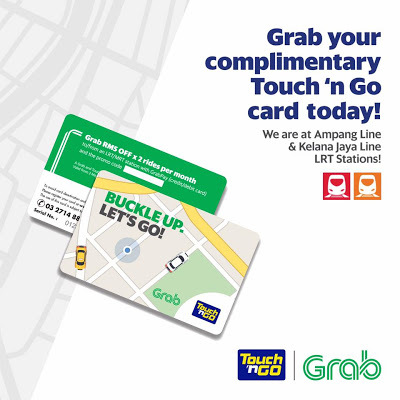 Free Touch 'n Go Card & Grab Promo Code Malaysia Giveaway Campaign
Grab x Touch 'n Go – Ride Your Way To MRT/LRT: Are you a frequent user of the MRT and LRT in Klang Valley? If you are, we are pleased to offer two discounted rides per month to ease your travels to/from MRT and LRT stations.
In conjunction with our partnership with Touch 'n Go Sdn Bhd, hurry now to select MRT/LRT stations to collect your complimentary GRAB Touch 'n Go card which comes with a Grab promo code for RM5 off x 2 Grab rides per month.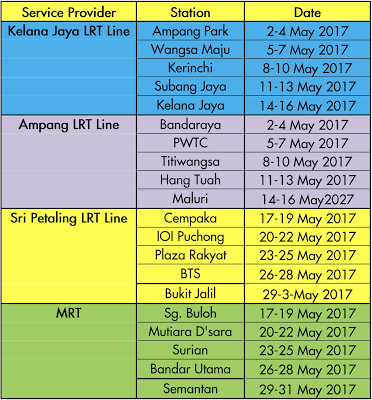 Redemption Period : 1 – 31 May 2017.
Promo Quantum: Up to RM5 off x 2 Grab rides per month, for 6 months
Venue : Kelana Jaya, Ampang, Sri Petaling LRT lines and MRT station.
Upon getting the complimentary card, the User MUST fills in the registration form at the selected stations. (Users are required to provide complete and accurate details of name, NRIC, Email Address, Mobile Number and TNG Card Mfg number.
Each User must register with their own NRIC and is entitled for one (1) complimentary card only.
Complimentary card is limited to first come, first serve basis
Free Grab Promo Code Usage for RM5 Discount Rides to/from LRT/MRT Stations
Applicable for new to Grab & existing users only, valid with credit/debit card bookings only
Valid only to and from MRT and LRT stations in Klang Valley
Valid for GrabCar, GrabShare and GrabTaxi rides only
If you get the car in May, you can start using the promo code from May until October 2017. However, if you manage to get the card in July, you'll only enjoy the promo code from July to October 2017.
Promo Code: To get your promo code, please kindly get hold of your complimentary GRAB Touch 'n Go card as per the above locations.
Payment Method: GrabPay (credit/debit card) only.
Promo expiration: 31st October 2017 at 11.59PM
Promo redemption: Valid for the first 40,000 redemption per month
Grab Malaysia Promo Code Terms & Conditions
This promo is valid in the Klang Valley only
Available for GrabPay (credit/debit card booking) only.
Each month, there will be a redemption limit of 40,000. Promo will expire at the end of each month or when redemption reaches the limit (whichever comes first).
The following month, the 40,000 limit will be refreshed.
This promo is valid for GrabCar, GrabShare and GrabTaxi rides only
Not applicable with any other promos.
Discounted price does not include toll charges.
A cancelled booking (either by passenger or driver) nullifies the promo entry.
NOT VALID for rides to/from KLIA/KLIA2
Promo is only valid from 2 May 2017 – 31 October 2017
Link
---
This is a companion discussion topic for the original entry at
http://harga.runtuh.com/2017/05/free-touch-n-go-card-grab-promo-code.html?m=0