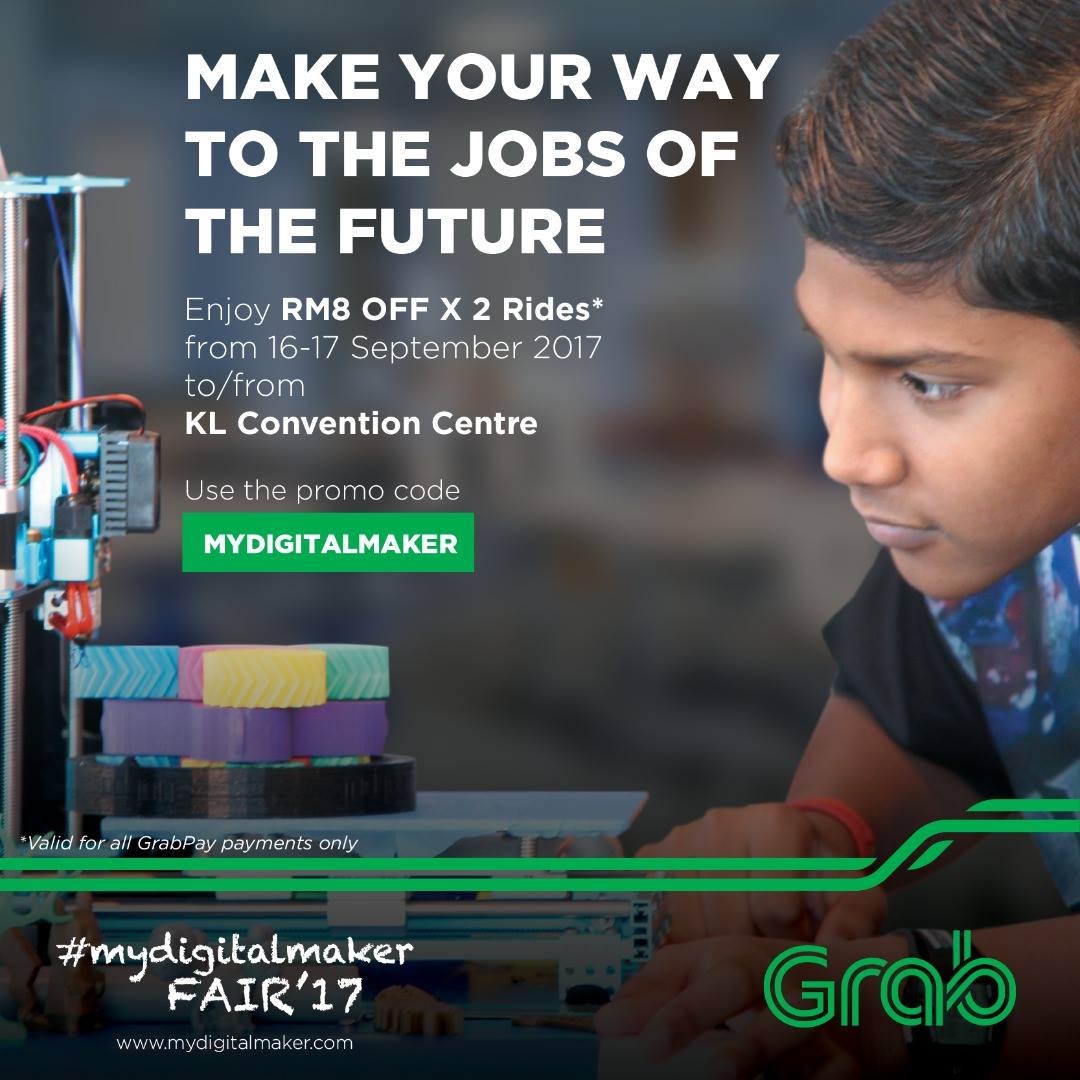 Grab Promo Code MDEC
#Mydigitalmaker

Fair 16 - 17 September 2017

Promo Value: New & existing users enjoy RM8 off each ride x (2) TWO Grab rides. Valid from 16-17 Sep 2017.

Promo Usage: Applicable for Grab new & existing users only, valid with credit / debit card only, valid to or from KL Convention Centre only.

Grab Promo Code: MYDIGITALMAKER

Grab Promo Code Malaysia Terms & Conditions
This promotion is only valid for GrabCar drop off or pick up at KL Convention Centre only.
If the fare is less than the promo amount, there will be no reimbursement of the fare difference. If the fare is more than promo amount, the additional fare amount will be charged to the Grab user.
A cancelled booking (either by passenger or driver) nullifies the promo entry.
The promotion discount is only successfully redeemed once a relevant in-app and/or SMS message is received (after successfully being allocated a car by the system).
All bookings must be made via the Grab (MyTeksi) App.
Not valid with other promotions.
Not valid for airport trips.
Promotion will not be applicable for recycled mobile numbers that were previously registered with MyTeksi. Please contact us at 1300-805-858 if you suspect that this may be the case.
MYdigitalmaker: We are T-1 day before the first #mydigitalmaker fair 2017!
We hope you are ready for all the exciting programmes and activities in line for your family and friends!
Before tomorrow starts, let's be equipped with the directions to our event area cos we want you to arrive at our event hall safe and sound!

Our event is powered by Grab and do enjoy a promotional ride to #mydigitalmaker fair 2017.
Just type – MYDIGITALMAKER (promo code)
Condition - RM8 OFF 2 Grab rides to/from KL Convention Centre. Valid for GrabPay payment method only. Valid for 16-17 September.
Check out their website for more details - http://grb.to/mydigitalmaker
There are few options to get to Kuala Lumpur Convention Centre. You may choose either by car, train, bus and on foot!
If you are in a Grab car or a chauffeured car, approach the centre of Jalan Pinang and turn left into the Main Entrance (second turn after the Mandarin Oriental Hotel) for drop off.
If you are driving, you may park at KL Convention Centre's basement, Suria KLCC car park and exit to the concourse level, Centre Court. Make your way past Cold Storage to the Guardian pharmacy where there is covered walkway through to the KL Convention Centre.
You may also take the train (Putra LRT) and disembark at the KLCC Station. Turn left after exiting the turnstiles and walk through the Suria KLCC shopping centre Concourse level to the Centre Court. Turn left and make your way past Cold Storage to the Guardian Pharmacy where there is a covered walkway through to KL Convention Centre.
To all our visitors who choose to park at KLCC Suria, from the shopping centre's concourse cevel Centre Court, make your way past Cold Storage to the Guardian pharmacy where there is a covered walkway through to the Centre.
KL Convention Centre is also accessible for delegates and visitors via the air-conditioned Bukit Bintang-KLCC Link Bridge. The link bridge features entrance/exit at the Pavilion Mall (Bukit Bintang), Wisma Cosway, Jalan Perak and the Impiana KLCC Hotel with convenient exit escalators and staircases) located at the main entrance to the Centre. This air-conditioned link allows delegates and visitors to travel conveniently, comfortably and safely on foot.
The #mydigitalmaker Fair 2017 is brought to you by My MDEC and Kementerian Komunikasi Dan Multimedia (KKMM), in conjunction with the Petrosains Science Festival this Malaysia Day weekend (16 & 17 September 2017) and is happening at the KL Convention Centre (Hall 6) from 10.00am to 6.00pm. Admission is free for all so come don't forget to bring your friends and family with you! Powered by GRAB.
For more info, please visit Mydigitalmaker Fair 2017
#mydigitalmaker #mydigitalmakerfair2017 #PetrosainsFest #KLCC #GrabMY