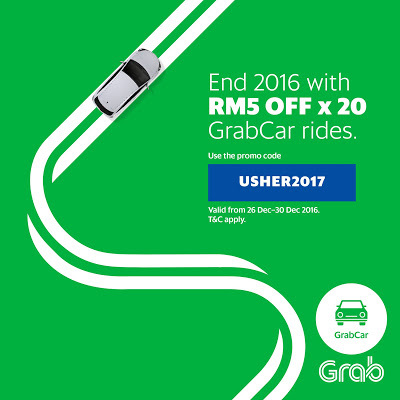 Grab Malaysia GrabCar Promo Code for Discounted Rides
Count down with GrabCar with RM 5 x 20 rides!
End the year with a bang with GrabCar's year end promotion. From 26th–30th December 2016, book GrabCar rides to feast with your friends, catch all the year-end sales, and drop in on all the parties with RM5 discounts. Limited to 20,000 redemptions per day.
Grab Malaysia Discount Promo code: Usher2017
Promo period: 26th December – 30th December 2016
Important note:
Promotion is valid for cash , debit / credit card.
Up to 20,000 redemption per day
Start the countdown at 20 and ride on in
Klang Valley, Penang, Melaka, Johor Bahru, and Kota Kinabalu
. And have a Grab-tastic 2017!
Share the savings with your friends and family. How to book a discounted ride:
Download the Grab app and tap the GrabCar (Economy) icon.
Key in your Pick-up and Drop-off points.
Choose your payment methods.
Enter GrabCar promo code Usher2017 and book your ride.
How is the RM 5 off calculated? Example:
Estimated fare (displayed): RM 3 Promo: Up to RM 5 off = RM3.00 Toll charges : RM3 Actual charge: (RM3 – RM3) + RM3 = RM3.00
Estimated fare (displayed): RM12 Promo: Up to RM 5 off = RM5.00 Toll charges : RM1.50 Actual charge : (RM12 -RM5) + RM1.50 = RM8.50
GrabCar Malaysia Promo Code Terms & Conditions
Applicable for all GrabCar (Economy) rides in within Klang Valley, Johor Bahru, Penang, Melaka & Kota Kinabalu.
Passenger are required to key in Usher2017 for rides during promo period before booking the ride.
Available for new and existing users including cash/credit/debit card users.
All bookings must be made via the Grab App.
Not applicable with any other promos.
Discounted price does not include toll charges.
Link
---
This is a companion discussion topic for the original entry at
http://harga.runtuh.com/2016/12/malaysia-grabcar-promo-code-rm5-off-20-rides.html