GSC Spritzer Tinge Buy 1 Free 1 Every Saturday Until 28 January 2017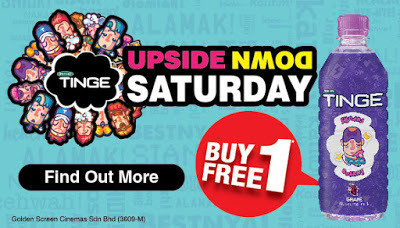 Golden Screen Cinemas Spritzer Tinge Upside Down Saturday Promotion
Get a FREE bottle of Spritzer Tinge every Saturday when you purchase a bottle of Spritzer Tinge at GSC
GSC Malaysia Spritzer Tinge Buy One Free One Promo Terms & Conditions
Spritzer Tinge Buy 1 Free 1 is only applicable on every Saturday at 10am onwards from 7 Jan to 28 Jan 2017.
Only one (1) complimentary bottle of Spritzer Tinge with purchase of one (1) Spritzer Tinge.
Not valid for GSC Hong Leong Credit Card & other GSC promotions and offers.
Available while stocks last.
Link
---
This is a companion discussion topic for the original entry at
http://harga.runtuh.com/2017/01/gsc-spritzer-tinge-buy-1-free-1-every-saturday.html?m=0