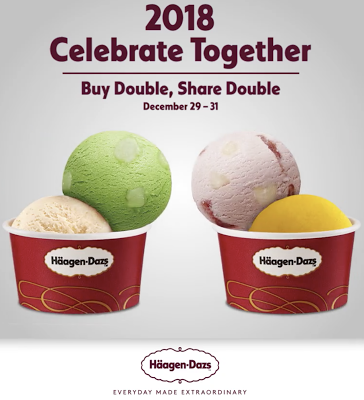 Häagen-Dazs Malaysia Double Scoop Buy 1 Free 1 Discount Offer Promotion
Celebrate 2018 together with sweet, sweet ice-cream because we're offering a Buy 1 Share 1 Double Scoop Ice Cream promotion to all, from December 29 - 31. Perfect for family outings and hang-outs with friends!
Hurry, while stock lasts!
Häagen-Dazs Buy One Free One Promo Terms & Conditions
Buy 1 Share 1 Double Scoop Ice Cream Promotion is valid for takeaways only, from 12/29 – 12/31.
This promotion cannot be combined with other promotions
Link
---
This is a companion discussion topic for the original entry at
http://harga.runtuh.com/2017/12/haagen-dazs-buy-1-free-1-double-scoop.html