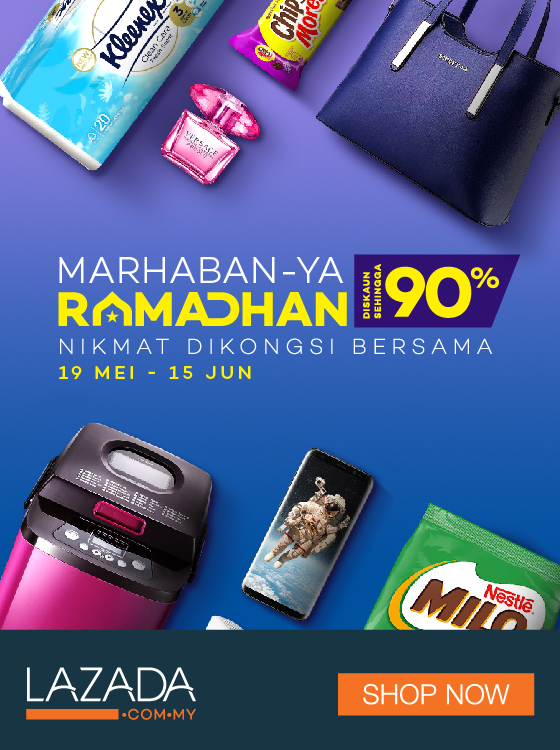 Lazada Voucher Code Malaysia Marhaban-Ya Ramadhan Up to 90% Discount Offer Promotion

Malaysia Lazada Voucher Code 10% Discount Promo: MUBARAK10
Click here to shop @ Lazada Malaysia online store!
Lazada Voucher Code Malaysia Terms & Conditions
Maximum Discount of RM80
New Customer Only
Product Exclusion Apply
Limited Time & Quantity Only
Let Us Celebrate Ramadan with the Spirit of Charity
Every single year, Muslims all over the world celebrate the coming of the holiest month of the Islamic calendar, Ramadan. Many Muslims in Malaysia especially are excited with the arrival of Ramadan. "Marhaban, Ya Ramadan", "Ramadan Mubarak" or "Welcome, O Ramadan" are often being said when Ramadan is nearing. An annual celebration, for the entire month, able-bodied Muslims are required to fast every single day from dawn until dusk. Muslims are also encouraged to perform more deeds and to be more charitable to those who are less fortunate.
We at Lazada Malaysia recognize this as something significant that should be nourished and shared. "Good Things should be Shared" where we believe that everyone should help those around them who are less fortunate and help them in any way that we can. Who knows, maybe those who we had helped will one day help us when we are in need.
If you are on the search for items that can aid you with the process of helping others, feel free to browse all thirteen major categories on Lazada Malaysia. Here you can find a wide range of products, from the latest extensive collection of the latest men, women, and children's clothing for Ramadan to the most affordable home and kitchen appliances that you can use come this holy month. Come and visit us if you are looking for the best of Ramadan Sales and Ramadan Deals with "Marhaban, Ya Ramadan" sales, only on Lazada Malaysia!
Celebrate the Arrival of Aidilfitri with "Riang Ria Raya"
The spirit of charity should also be extended when Syawal arrives. Those who are less fortunate also deserve to be happy when the most festive month of the Islamic calendar is here. Eid, or more commonly known in Malaysia as "Hari Raya Aidilfitri" or "Hari Raya Puasa" is the first day of Syawal when Ramadan is over. This is the time when those who live in the city will "Balik Kampung" (Going back to the Hometown) to visit their parents and family.
Few days before Aidilfitri are perhaps the busiest time when people will be busy with the final preparation of Aidilfitri. Every little help is very much appreciated; this is when Lazada Malaysia comes into the picture. If you are looking for the best place to shop for everything that you need to celebrate the arrival of the biggest celebration in Malaysia, Lazada Malaysia is the place for you. From the latest fashion items to the newest home appliances and consumer electronics, there are so many items and products that are offered for unbelievable prices and deals! Make your Aidilfitri more enjoyable and memorable with "Riang Ria Raya" sale on Lazada Malaysia today!
Grab the Best of Deals and Offers for "Marhaban, Ya Ramadan" and "Riang Ria Raya" Sales!
Running from May 19th to June 30th, you are privy to the latest offerings and deals by Lazada Malaysia. With millions of products that are organized and cataloged on Malaysia's largest online shopping destination, you will never be short of options and choices! What is better than one sale? Two sales of course! Throughout the one month period, you are being offered with two different sales by Lazada Malaysia. "Marhaban, Ya Ramadan" and "Riang Ria Raya" are Lazada Malaysia's exclusive sales where various products from various local and international brands are being offered for unbelievable prices and discount rates!
If you are already on the search for the best Aidilfitri 2017 sales, then you have made the right decision to make a stop here. Every single day throughout each campaign day, apart from the normal discount offers, you are also being served with various flash sales featuring some of the latest and highly sought after products in Malaysia! With Lazada High-Speed Delivery service, for those who live in the Klang Valley area, any eligible item that you have ordered before 1 pm will be delivered to your doorstep before the day ends! Now you will have more time to plan to make your Ramadan and Syawal that much sweeter!
Stay current and up-to-date with the latest deals and exclusive offers by downloading the latest Lazada Malaysia mobile app from Google Play store and iTunes App Store! Or you can follow us on our social media such as Facebook, Twitter and Instagram with the hastags #MarhabanYaRamadhan and #RiangRiaRaya. Do keep any eye on exclusive desktop-only or app-only deals for further saving! Now your plan to make others and your own Ramadan and Syawal to be memorable has become easier with all these offers and services by Lazada Malaysia.
Link
---
This is a companion discussion topic for the original entry at
http://harga.runtuh.com/2017/05/lazada-voucher-code-maximum-discount-promo-new-user.html