Sunway Pyramid's Lenovo Staff Scammed Student for just 'Checking' Her Laptop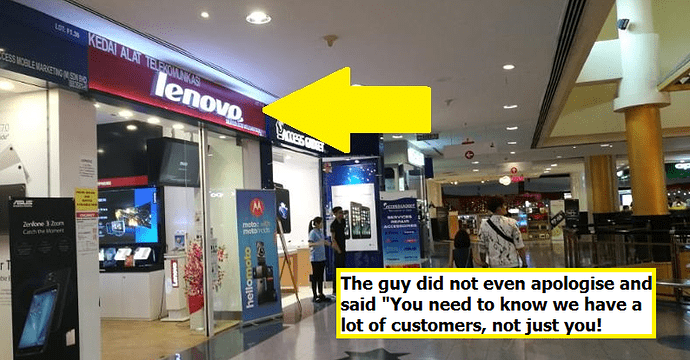 Not everyone is an IT expert or computer wizard. Which is why for those of us who aren't very good at these things, we would leave our tech stuff to the experts.
But with a lack of knowledge about something comes one very dangerous thing – being tricked.
And unfortunately for Jia Hou and his friend, they were taken advantage of by a staff who's working in Lenovo Sunway Pyramid.
In an e-mail, Jia Hou said,
"I have this college friend, she is from China and had came down to INTI Subang to study. Then one day, her Lenovo laptop stopped working."
Frustratingly, the laptop could no longer be turned on and so she had no choice but to send it to that shop. She believed that sending the laptop back to its own brand's store would be better.
Boy, was she wrong…
"My friend passed her laptop to them hoping they could fix it, and when they checked the laptop for awhile they said she had to pay RM150 for 'checking fee' for only touching the laptop.
"As my friend was alone she had no choice but to comply since her laptop is in their hands at that moment."
Not only that, they had the audacity to tell the poor girl that she had to fork out RM600 in total if they manage to fix her laptop.
"So my friend gave me a call and I asked to talk to the guy. He told me different companies will have different charging fees.
"They probably think that my friend is a fool but I don't know anywhere that charge 'checking fees' just by touching it."
Finding the situation fishy, Jia Hou asked for the shop's name.
"To my surprise he refused to tell me and asked why would I want to know the shop's name.
"I insisted to know and instead of telling me the shop's name, he said he will give back the laptop to my friend and tell her to leave rudely."
But at that point in time, the guy did not return the lady's laptop. He told her to wait for another 20 minutes.
Feeling worried for his friend, Jia Hou drove from Digital Mall all the way to Sunway Pyramid just to check on her and the situation. Even when he arrived at the store, they had yet to return the laptop.
"She told me she has been waiting for them to bring back her laptop from the 'office' for an hour and a half.
"When they finally brought her laptop back from the 'service centre', my friend asked, 'why did you tell me it takes only 5 minutes for you to take back the laptop but you took an hour plus?'"
The horrible salesman rudely exclaimed
"You need to know we have a lot of customers, not just you!"
But the duo weren't going to pay RM150 for absolutely nothing. So they haggled with the staff to have the price reduced and they were successful.
In the end, they paid RM80 just to get the laptop back.
Weird how the 'checking fee' can be easily haggled and lowered down to almost half the original price. Hmm…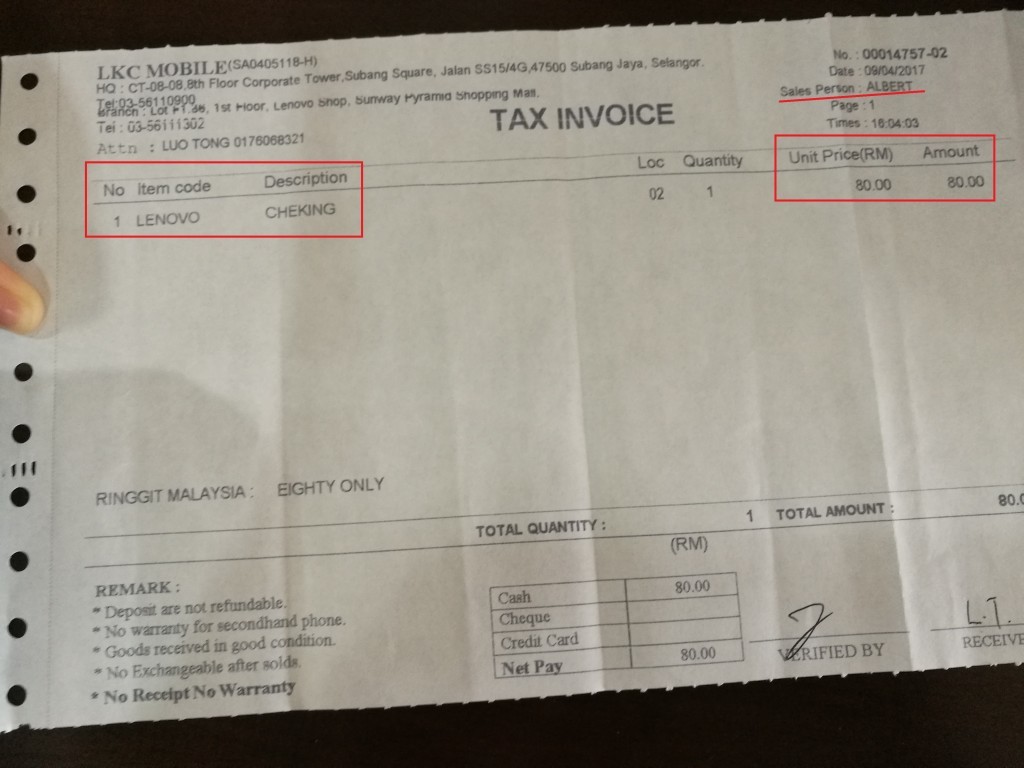 Of course, Jia Hou then brought his friend to Digital Mall to have it properly fixed. When they asked if there were such a thing as 'checking fee', they were laughed at by the workers there.
After the incident, Jia Hou even sent a complaint to Lenovo's Facebook page via messenger. But he has yet to receive a reply.
The incident proved that we shouldn't blindly trust an employee from an authorized store as there will still be unethical workers that abuse people's trust to con their money. Always be wary guys!
Update: Lenovo Malaysia is currently conducting internal investigations as they absolutely do not condone unethical behaviour and is taking any necessary measure to make sure the issue is resolved, including reaching out the the affected parties.
This only means… the store person kena kantoi lah!
Source: WOB