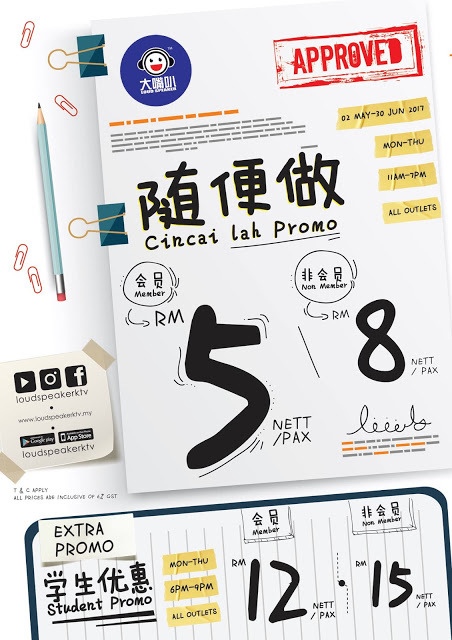 大嘴叭 Malaysia Loudspeaker KTV Karaoke CinCai Lah Discount Offer Promotion
What's for lunch?Cincai Lah📢 What movie are we watching?Cincai Lah📢 Where to karaoke? Definitely Loud Speaker! 📢📢📢 Loud Speaker proundly present you their latest promo「Cincai Lah Promo」! Come and check out our latest promo as long as RM5!
Loud Speaker Discount Promo Terms & Conditions
Hi there, like mentioned on the poster CinCai promo only applies from May 2rd till June 30th
Promo only available on Monday to Thursday 11am-7pm, Check in after 6pm only able to sing till 9pm sharp.
For member is RM5, none member RM8.
Monday –Thursday (EXTRA STUDENT PROMO) 6pm-9pm. Check in after 7pm only able to sing till 10pm sharp.
Check in using student card = RM15 per pax, student card & member card is RM13 per pax.
Per session will be three hours and Loud Speaker will then provide selected free refillable drinks after purchase.
Per card entitled for per pax ONLY This offer will not be able to redeem on a public holiday and public holiday eves. Thank you.
#MalaysianLanguage #Cincailahpromo #cincailah #omg #這是大馬人最愛的口頭禪無誤 #隨便做 #loudspeakerktv #須符合條件
午飯要去哪裡吃?Cincai Lah📢 想要看哪部電影?Cincai Lah📢 想要去哪裡唱歌?當然是大嘴叭啦!📢📢📢 大嘴叭推出「隨便做Cincai Lah Promo」讓你以最低價錢RM5盡情歡唱!保證讓您付錢也會大喊Cincai Lah!不用找錢!(逃)
📌还有还有,学生唱K优惠星期一至四6PM-9PM最低消费RM12!是RM12!放学Jio同学一起来唱K吧!Let's Go大嘴叭,开心唱卡拉!🎤
就像海报说明那样,Cincai lah优惠是在5月2日至6月30日,每个星期一至四,11am-7pm,6pm至7pm到只能唱到9pm 哦。每一位顾客可享用Rm5(会员)或Rm8(非会员)入场哦。。EXTRA PROMO = 星期一至四,6pm – 9pm,7pm至9pm到只能唱到10pm 哦。每一位顾客可享用Rm15(student card 罢了)或Rm12(Student card 和member card)入场哦。而且大嘴叭会附加一杯无限添加制定饮料哦。此优惠不能在公共假期与公共假期的前夕使用哦。谢谢。
Link
---
This is a companion discussion topic for the original entry at
http://harga.runtuh.com/2017/05/loudspeaker-ktv-karaoke-member-discount-promo.html?m=0