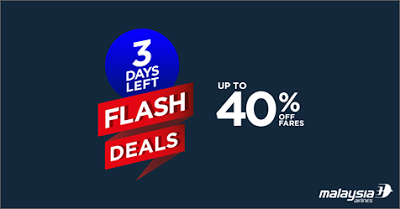 Malaysia Airlines Air Fare Flight Ticket Discount Flash Sale Deal Promotion
3 DAYS FLASH DEALS: Visit various Asian destinations for up to 40% off. Travel from 3 Jul-14 September 2017.
Click here to book a seat by 21 Jun 2017.
GET 250 BONUS ENRICH MILES WHEN YOU BOOK YOUR FLIGHT DURING OUR FLASH DEALS: From 19-21 June, get 40% off fares to Shanghai, Seoul, Perth & other destinations with the online-exclusive Flash Deals. Enjoy 250 Bonus Enrich Miles with every successful booking.
Fly for less, earn 250 bonus Enrich Miles in a flash That's right. Besides enjoying discounts up to 40% on fares when you book a flight during our Flash Deals from 19 -21 June 2017, we'll give you 250 bonus Enrich Miles with every successful booking.
To get your extra miles, just send us your booking details.
---
This is a companion discussion topic for the original entry at
http://harga.runtuh.com/2017/06/malaysia-airlines-flight-ticket-discount-offer-promo.html?m=0