It's game over for JJPTR, losses in the millions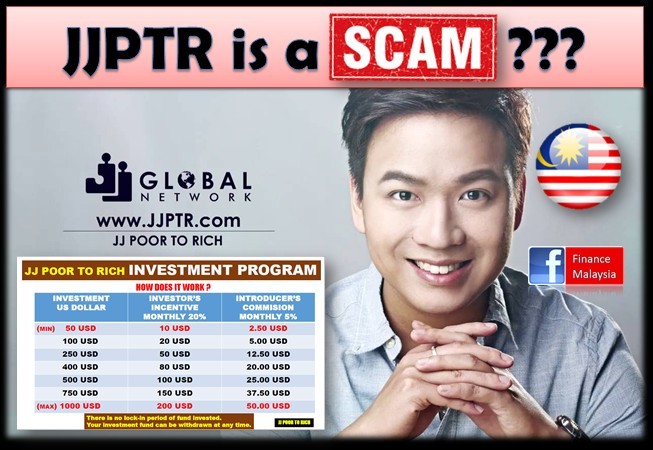 JJPTR or JJ Poor to Rich, one of the biggest money games in the country has collapsed, according to Oriental Daily quoting sources from the Internet.
The Chinese daily reported that business community of the offices nearby JJPTR office said starting Saturday, the office had been closed. Notice outside the office stated that the office is closed on the 9th, 19th and 29th each month and the business hours is from 1pm to 7pm.
Since Saturday night, the reports of JJPTR accounts being hacked causing chaos in the trading causing a loss of RM500 million leaving a balance of only USD11,000 had gone viral.
Bukit Aman Commercial Crime Investigation Department director Datuk Acryl Sani Abdullah Sani told The Borneo Post that the police had not received any report from JJPTR investors.
He said the police had received information on the collapse of JJPTR and would watch closely the development and look out for any investor lodging police report.
"Up to now, we have not received any report. The police call on the public to provide information on any illegal parties receiving investment or illegal money games or lodge any report to enable the police to investigate." Acryl said.
He advised the public to always check the legitimacy of any investment company before parting with their money to avoid falling into any scam and lose their hard earned money.
On Feb 20, Securities and Exchange Commissions (SEC) issued an advisory on JJPTR that it is not registered with the commission as a corporation or partnership.
"The commission has received information that JJPTR or JJ POOR TO RICH is soliciting investments from the public. The public are hereby informed that JJPTR is not registered with the commission as a corporation or partnership. There being no primary licence, it is not authorised to solicit investments which require a secondary licence as provided under Sec. 8.1 of the Securities Regulation Code," SEC cautioned.
Based on information gathered from JJPTR's online advertisements and presentations and received from concerned citizens, JJPTR claimed to be an investment company founded in March 2015.
It claims to be engaged in 'Forex Trading' and offers investors a 20 per cent fixed profit on their capital investment starting from USD25.
SEC said these are unauthorised solicitation of investment from the public and are illegal and those who act as salesmen, brokers or agents in selling or convincing people to investment may also be prosecuted and held criminally liable.
One investor told The Borneo Post that he joined JJPTR two months ago. He found this investment opportunity through Internet.
He lamented that he had lost a substantial amount and had not received any gains. However, he refused to disclose the amount he lost and declined to talk further.
Another investor, who wished only to be named as Lau, said he invested USD200 in August last year.
He said he was lucky to have taken back the capital. He had received regular returns for the past month (20 per cent of the initial investment).
"The last time I received my returns was in March. The webpage of my investment has been wiped out today ," he said.
Source: Borneo Post Online