My U Mobile Reward Freebie: Free 1 GSC Movie Ticket e-Voucher 15 December 2016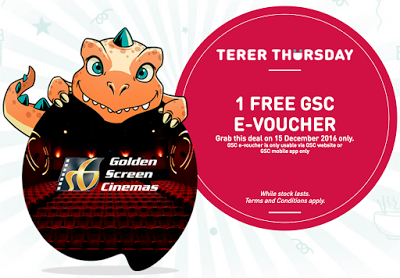 My U Mobile TERER THURSDAY Rewards Free 1 GSC Cinemas Movie Ticket e-Voucher
TERERSAURUS has been getting lots of sweet treats on #TERERTHURSDAY, so this week he demanded free movie tickets instead! Of course, we couldn't say no. Now you too can enjoy ONE (1) FREE GSC e-Voucher via the MYUMOBILE app.
How to redeem:
Tap on <Get Voucher Code>. Deal with voucher code will be saved into your <My Deal> tab.
Login into your GSC account in GSC website or GSC mobile app.
Enter your GSC e-voucher code & e-voucher PIN during ticket purchase.
The promotion is based on first-come-first-serve or while stock last basis, please redeem your deal before the promotion is fully redeemed.
MyUMobile App Rewards Free Movie Ticket Terms & Conditions
Exclusive for MyUMobile app users only.
Voucher is available for grabs on 15 Dec 2916 only. Grabbed voucher will be saved into 'My Deals'.
Voucher is valid from 15 Dec 2016 to 21 Dec 2016.
Valid booking via GSC online or GSC Mobile Application.
This voucher is not exchangeable for cash or to be combined with any other offers, promotions or discounts.
The redemption is based on first-come-first-serve and while stocks last basis. Once the voucher is full redeemed, they will no longer be featured in the MyUMobile app.
The voucher is for one time redemption only. No cash alternatives or refund will be offered in lieu of promotion entitlement. Discount cannot be combined and accumulated.
U Mobile reserves the right to alter, cancel, terminate or suspend the promotion any part thereof or any part of the applicable terms & conditions from time to time, with or without any prior notice.
Contact U Mobile customer service hotline at +6018-3881318 to report any issues pertaining to the usage of this promo.
Link
---
This is a companion discussion topic for the original entry at
http://harga.runtuh.com/2016/12/my-u-mobile-reward-freebie-free-gsc-movie-ticket-e-voucher.html?m=0