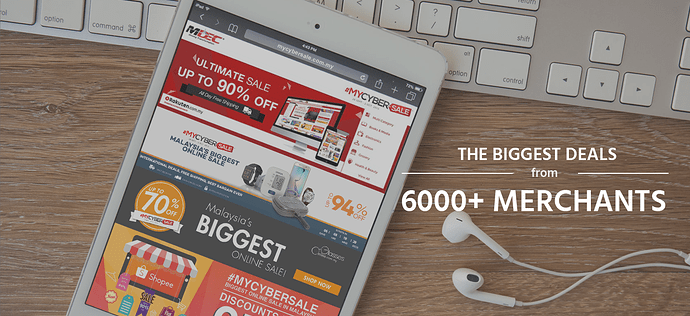 What is
#MYCYBERSALE

?

MYCYBERSALE is Malaysia's Biggest Online Sale Event, an event that gathers Malaysia's popular eTailers, selling at the same period.

Organized by Malaysia Digital Economy Corporation Sdn Bhd (Formerly known 'Multimedia Development Corporation Sdn Bhd) and supported by Kementerian Perdagangan Dalam Negeri, Koperasi Dan Kepenggunaan (KPDNKK), CyberSecurity Malaysia and SME Corp. Malaysia; #MYCYBERSALE aims to boost e-Commerce industry in Malaysia through these objectives:
To generate online shopping demand from consumers;
To encourage SMEs to adopt eCommerce in their businesses; and
To increase domestic revenue of eCommerce
2016 is its 3rd year running. Expect significant discounts on products & services and free shipping from participating eTailers.
Why should I shop at www.MYCYBERSALE.my?
Get special offers and deals including free shipping, lucky draws, exclusive product launches and coupons from our list of merchants (eTailers) and partners featured on www.mycybersale.my. Just be sure to click through to a store from a link on www.MYCYBERSALE.my to ensure that you get your great deal. All our featured merchants have been vetted through by our #MYCYBERSALE Steering Committee which comprises:
Ministry of Domestic Trade, Co-operative and Consumerism (KPDNKK)
SME Corporation Malaysia (SMECorp)
Malaysia Digital Economy Corporation (MDEC)
CyberSecurity Malaysia
Malaysian Communications and Multimedia Commission
Although, efforts have been made to peruse the merchants and participating websites, the #MYCYBERSALE Steering Committee will not be held liable for any claims arising from you purchasing from the list of merchants.