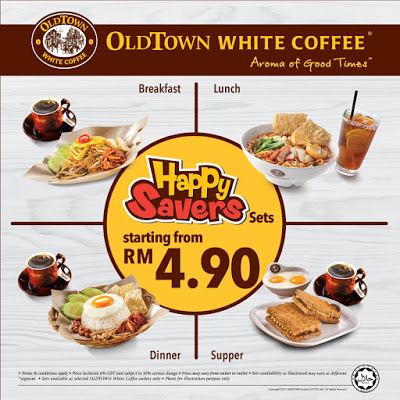 OLDTOWN White Coffee Malaysia Happy Savers Sets Discount Offer Promotion
We've got a deal for any meal time of the day (breakfast, lunch, dinner & supper), just for you. Happy Savers Sets starting from RM4.90 Visit your nearest outlet and check it out yourself!
OLDTOWN White Coffee (OTWC) Discount Promo Terms & Conditions
Price inclusive of 6% GST and subject to 10% service charge.
Price may vary from outlet to outlet.
Sets availability as illustrated may vary at different segment.
Sets available at selected OLDTOWN White Coffee outlets only.
Photo for illustration purpose only.
OLDTOWN White Coffee Set Menu (Mix & Match)
Link
---
This is a companion discussion topic for the original entry at
http://harga.runtuh.com/2017/05/oldtown-white-coffee-happy-savers-sets-menu-rm490.html