Purchase Venti Beverage Get Starbucks Merchandise Up to 50% Discount 1 April 2017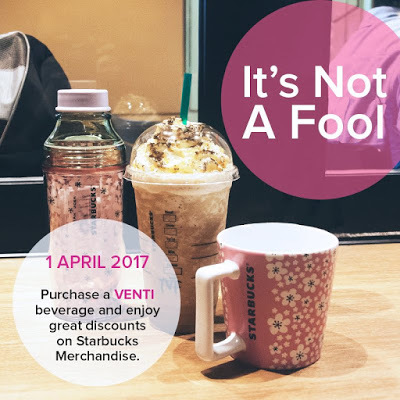 Starbucks Malaysia Buy Venti Sized Beverage Enjoy Great Discount on Starbucks Merchandise Promotion
If you heard that you would be getting discounts off your merchandise purchase, it is not an April Fool's joke! Tomorrow, when you purchase a VENTI beverage, you can get your Starbucks Merchandise up to 50% off!
30% off on 1 merchandise
40% off on 2 merchandises
50% off on 3 or more merchandises.
Not everything on April 1st is a fool's joke. Time to get your tumblers! ;)
Starbucks Merchandise Discount Promo Terms & Conditions
Applicable at all Starbucks stores except Genting Highlands and Sunway Lagoon Kiosk.
Not combinable with other discount or promotion.
Not entitled for Starbucks Card reward.
Maximum 5 merchandises per transaction.
It is only limited to one customer per transaction.
Applicable to all Starbucks merchandises except for Reserve merchandise.
Only applicable on the 1st of April 2017.
Link
Malaysia Freebies Samples Giveaway
---
This is a companion discussion topic for the original entry at
http://harga.runtuh.com/2017/04/purchase-venti-beverage-starbucks-merchandise-discount-promo.html?m=0