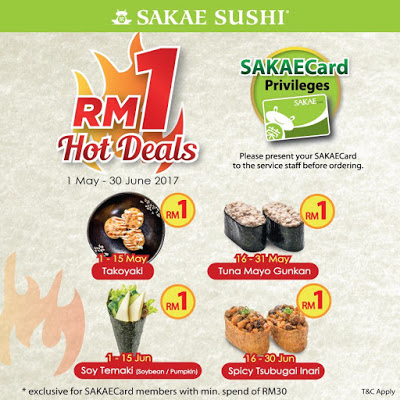 Sakae Sushi Malaysia SAKAECard Privileges RM1 Hot Deals Promotion
Your favourite RM1 Hot Deal is back! For this week's special, just present your SAKAECard and you can order a Tuna Mayo Gunkan for only RM1, with a minimum spend of RM30. Come join the crowd!
SAKAE Card Member Privilege: Please present your SAKAECard to the service staff before ordering. Exclusive for SAKAECard members with minimum spend of RM30.
1 - 15 May 2017: RM1 Takoyaki
16 - 31 May 2017: Tuna Mayo Gunkan
1 - 15 June 2017: Soy Temaki (Soybean / Pumpkin)
16 - 30 June 2017: Spicy Tsubugai Inari
Promotion Period: 1 May - 30 June 2017
Link
---
This is a companion discussion topic for the original entry at
http://harga.runtuh.com/2017/05/sakae-sushi-sakaecard-member-card-rm1-hot-deal.html