Senheng iPhone Up to RM150 OFF: Free Lightning Cable (worth RM99), Battery Bank (worth RM79) & Extra 1-Year Warranty 5 - 15 January 2017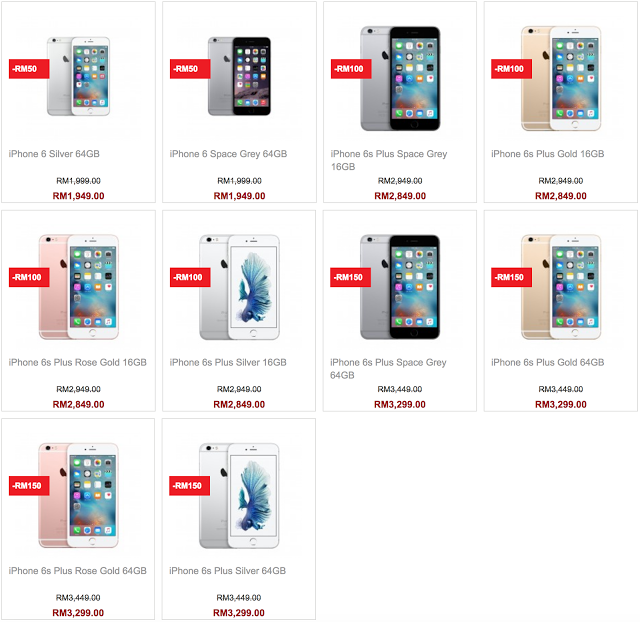 Senheng Apple iPhone 6, 6s & 6s Plus Latest & Cheapest Malaysia Best Prices & Freebies
iPhone can easily be yours with up to RM150 off & a complimentary lightning cable & 5000mAh battery bank to help you stay connected. Grab this golden deal only at Senheng or at www.senheng.com.my.
Senheng Malaysia iPhone Offer Promo Terms & Conditions
Promo Period: 5 Jan 2017 to 15 Jan 2017.
Prices shown are inclusive of 6% GST.
Images are for illustration purposes only; actual product may vary.
Each unit comes with a complimentary Lightning Cable (worth RM99), Remax 5000mAh Battery Bank (worth RM79) and extra 1 year warranty by Senheng.
Delivery will take from 7 to 14 working days.
Customers are strictly required to provide utmost accurate details like name, delivery address and mobile number to ensure a smooth flow of delivery.
Installment plan of up to 24 months with 0% interest is available; handling fee chargeable:
Public Bank:

i. 6 Months: RM 0
ii. 12 Months: RM 27
ii. 24 Months: RM 69

Maybank / AMEX:

i. 6 Months: RM 0
ii. 12 Months: RM 27
iii. 24 Months: RM 90

HSBC:

i. 6 / 12 / 24 Months: RM 90
Please contact Customer Care Line: 03-9281 4040 for any enquiries (Senheng Customer Care Operation Hours: Monday - Friday, 9.30am - 5.30pm).
Goods sold are not refundable, replaceable and returnable.
Other terms & conditions apply.
Link
---
This is a companion discussion topic for the original entry at
http://harga.runtuh.com/2017/01/senheng-apple-iphone-malaysia-price-discount-promotion-offer-deal.html?m=0