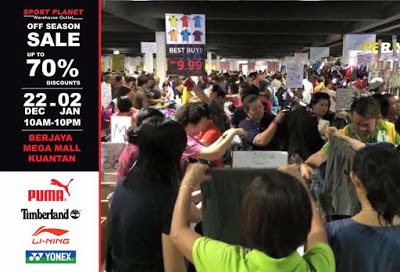 Sport Planet Malaysia Off Season Sale in Kuantan
Good news for all our KUANTAN fans!
We are coming up to BERJAYA MEGA MALL to celebrate the Christmas and New Year with huge discounts UP TO 70% on million products from international Sports Brands such as Puma, Nike, Timberland, Yonex, Adidas etc in 25,000ft of space area. We have a variety of products from apparels, shoes, bags, socks and more.
So, Mark you calendar and join our festive sale! PAY LESS GET MORE!!
Date: 22 DEC 2016 - 02 JAN 2017 Time: 10AM - 10PM Venue: Berjaya Mega Mall, Kuantan
Berita Baik untuk Peminat kami di KUANTAN!
Kami akan berada di BERJAYA MEGA MALL sempena Jualan Hari Krismas dan Tahun Baru dengan diskaun sehingga 70% untuk berbagai produk sukan antarabangsa seperti Puma, Nike, Timberland, Yonex, Adidas dan sebagainya di kawasan seluas 25,000 kaki. Kami menawarkan pelbagai produk dari pakaian, kasut, beg, stoking dan banyak lagi.
Jadi, tandakan kalendar anda dan sertai jualan perayaan kami! ''PAY LESS GET MORE''!!
Tarikh: 22 Dis 2016 - 02 Jan 2017 Masa: 10AM - 10PM Tempat: Berjaya Mega Mall, Kuantan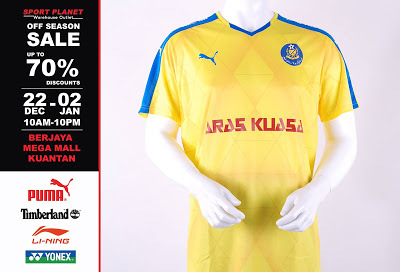 3000 helai Jersi Bola Sepak Pahang dari saiz XS hingga XXXL akan dijual dengan harga runtuh dari RM129 ke RM20. Biar kami rugi asal anda puas hati! Siapa cepat, dia yang dapat. Hogoh Pahang Hogoh!
---
This is a companion discussion topic for the original entry at
http://harga.runtuh.com/2016/12/sport-planet-off-season-sale-discount-offer-promo.html