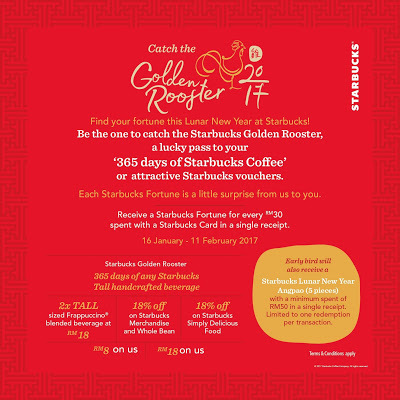 Starbucks Malaysia Lunar New Year Promotion Free Fortune Voucher & Red Packet
#StarbucksCNY2017 This Lunar Year, we want to bring you more fortune! From today until the 11th of February, spend RM30 with your Starbucks Card to receive your Starbucks Fortune OR spend RM50 and receive a Starbucks Fortune AND a packet of our Starbucks Lunar New Year Packet (5 pieces). Each Starbucks Fortune contains ONE voucher that you can enjoy at our stores.
Free Starbucks Promo Vouchers Which May Include
365 days of any tall Starbucks handcrafted beverage
RM8 off when you spend RM25 and above.
18% off on Starbucks Malaysia merchandise and whole bean.
RM18 off when you purchase RM100 and above,
Two Tall sized Frappuccino at RM18.
18% off on food item excluding Grab n Go items.
What will your fortune bring you on your visit? Find out by heading to our stores today! :)
*Not inclusive of activation and reload of Starbucks Card.
Link
---
This is a companion discussion topic for the original entry at
http://harga.runtuh.com/2017/01/starbucks-free-fortune-voucher-ang-pao-red-packets-cny-promo.html