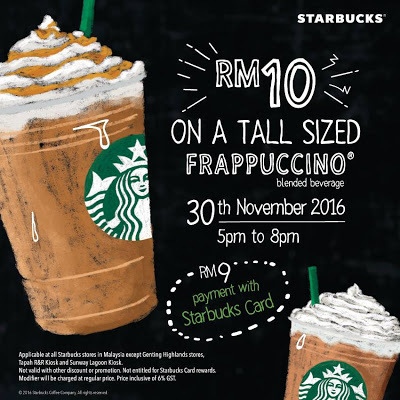 Starbucks Malaysia RM9 Tall Sized Frappuccino Payment with Starbucks Card
As November ends and we welcome December, let's celebrate with RM10 on ANY Tall Sized Frappuccino! If you use your Starbucks Card, you can get it at RM9! ;)
So, sleep well and see you tomorrow! :)
Starbucks Frappuccino Discount Promo Terms & Conditions
Only applicable on the 30th of November 2016.
Applicable at all Starbucks stores in Malaysia except Genting Highlands stores, Tapah R&R Kiosk and Sunway Lagoon Kiosk.
Not valid with other discount or promotion.
Not entitled for Starbucks Card rewards.
Modifier will be charged at regular price.
Price inclusive of 6% GST.
Link
---
This is a companion discussion topic for the original entry at
http://harga.runtuh.com/2016/11/starbucks-malaysia-tall-sized-frappuccino-blended-beverage-discount-promo.html