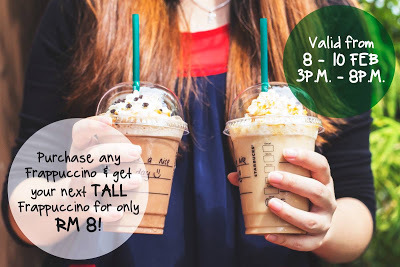 Starbucks Malaysia RM8 Second Tall Sized Frappuccino Promotion
The week ends frappuliciously! Drop by our stores today to enjoy RM8 on your SECOND TALL Frappuccino. Happy Friyay, everyone!
Celebrating today with our favorite Frappuccino! Don't forget to come by our stores from 3pm to 8pm to enjoy your SECOND TALL sized Frappuccino for only RM8! ;)
Starbucks Frappuccino Discount Promo Terms & Conditions
Available on the 8th - 10th of February 2017, 3pm to 8pm.
Applicable at all Starbucks stores in Malaysia except Genting Highlands, Sunway Lagoon Kiosk, Tapah R&R Kiosk.
Not valid with other discount or promotion.
Not entitled for Starbucks Card Reward.
The RM 8 promotion applies to Frappuccino purchase that is equal or lesser value than the purchased Frappuccino.
Available for upsize: RM9 for Grande, RM10 for Venti.
Link
---
This is a companion discussion topic for the original entry at
http://harga.runtuh.com/2017/02/starbucks-second-tall-frappuccino-rm8-discount-promo.html