Starbucks Tall Sized Cold Brew RM7 With Starbucks Card, RM8 Without @ All Cold Brew Stores 23 & 26 December 2016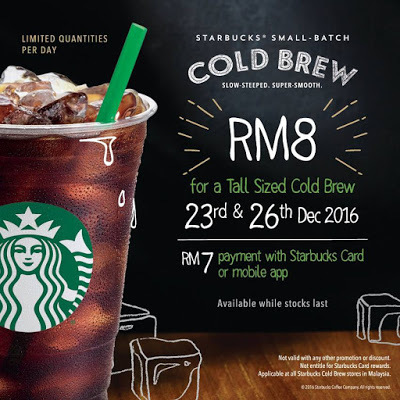 Starbucks Malaysia Card Tall Sized Cold Brew Discount Promotion
Get a cup of our delicious cold brew today and on the 26th of Dec for only RM8! If you use your Starbucks Card, you can enjoy it at only RM7! Head to our stores now to get your Cold Brew as it is only available in limited quantities. See you at our store!
Starbucks Card Cold Brew Discount Promo Terms & Conditions
Applicable while stocks last.
Not valid with any other promotions or discount.
Not entitle for Starbucks Card rewards.
Applicable at all Starbucks Cold Brew Stores in Malaysia.
Link
---
This is a companion discussion topic for the original entry at
http://harga.runtuh.com/2016/12/starbucks-tall-sized-cold-brew-discount-promo.html?m=0