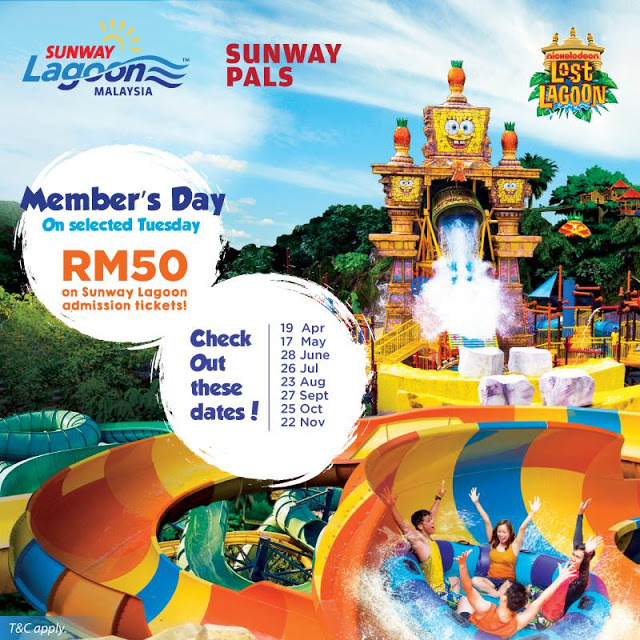 Sunway Lagoon Admission Ticket Discount Promotion
RM50 on tickets on selected Tuesdays!
Have a spectacular Sunway Pals Member's Day on selected Tuesdays with only RM50 for Sunway Lagoon tickets!
Usual Price: RM120 (with MyKad) Sunway Pals Member Price: RM50 Discount: 58%
Sunway Pals membership is free.
Terms & Conditions
Valid on selected Tuesdays in 2016 which includes 23 Feb, 29 Mar, 19 Apr, 17 May, 28 June, 26 July, 23 Aug, 27 Sept, 25 Oct, 22 Nov.
Valid upon presentation of Sunway Pals membership and MyKad / Expatriate Identification Card at Sunway Lagoon ticketing counter(s).
Special rate valid for adult and child admission ticket.
Limited to one admission ticket per member and limited to 5,000 pieces per selected Tuesdays.
Children below 90cm enter the park for free. 'Children' denotes child aged 11 years and below. 'Senior Citizen' denotes age from 60 years and above will enjoy contracted Child Rate. Children must be accompanied by an adult at all times within the park.
All transactions made are strictly on credit card or cash basis upon purchase.
All rates quoted inclusive of 6% GST. Rates may be subjected to further taxes as and when implemented by the state government.
Sunway Pals Management reserves the right to refuse, alter, amend, delete or add to the stated terms and conditions or withdraw this promotion at anytime without prior notice.
General park rules of Sunway Lagoon apply.
About Sunway Pals Membership
1. What is SUNWAY PALS?
SUNWAY PALS is a loyalty program that awards its members with loyalty points for purchase of goods/service at participating merchants' outlets and Sunway Business Units.
2. Who is eligible to register for SUNWAY PALS membership? All residents of Malaysia including expatriates with permanent resident address, aged 18 years old and above.
3. Where do I apply for the membership? a) SUNWAY PALS website b) SUNWAY PALS Membership Counter c) SUNWAY PALS mobile apps on the App Store and Google Play
4. Can I register at participating merchants' outlet? No. Refer Q3.
5. Where can I use my membership? Participating retailers at Sunway Pyramid, Sunway Putra Mall and other Sunway Business Units.
6. Is there any membership fee? Membership is FREE.
7. What is the validity of the membership? No expiry of membership, subject to changes of the Terms and Conditions.
8. How do I renew my membership? No renewal is necessary (Refer Q7)
---
This is a companion discussion topic for the original entry at
http://harga.runtuh.com/2016/04/sunday-lagoon-rm50-ticket-member-discount-price.html?m=0