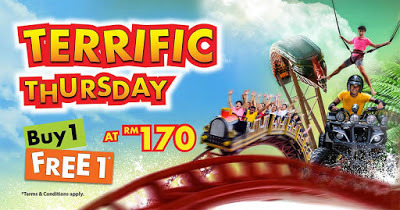 Sunway Lagoon Malaysia Admission Ticket Terrific Thursday Buy 1 Free 1 Promotion
Celebrate Terrific Thursday with a 'BUY 1 FREE 1' offer for only RM170. Mark your calendar for 19 Jan 2017!
Book now online. Valid via online only.
#SunwayLagoonMY #TerrificThursday
Terrific Thursday: Buy 1 FREE 1
RM170.00 incl. 6% GST
Admission Ticket includes: Multiple entry to ALL parks, including all rides, activities and attractions. (Not applicable for pay-per-ride activities: Bungy Jump, G-Force X and Go Kart)
Buy 1 Free 1 Applicable on Selected Thursday Every Month in 2017
19 January 2017
23 February 2017
23 March 2017
20 April 2017
18 May 2017
22 June 2017
20 July 2017
17 August 2017
28 September 2017
19 October 2017
23 November 2017
Sunway Lagoon Buy One Free One Thursday Promo Terms & Conditions
Kindly present printed e-ticket at Sunway Lagoon ticketing counter upon wristband redemption.
E-ticket is valid on the selected date of purchase & no re-validation allowed.
Strictly NO refund and cancellation of tickets will be allowed.
Free admission apply to children below 90cm in height and age 3 years old and below.
The management of Sunway Lagoon reserves the right to request additional information or documentation from time to time for verification purpose.
The management of Sunway Lagoon reserves the right to refuse, alter, amend, delete or add to the stated terms and conditions or withdraw this promotion at any time without prior notice.
Admission rate inclusive of 6% GST.
Only available for online purchase
General Park Rules of Sunway Lagoon apply.
Link
---
This is a companion discussion topic for the original entry at
http://harga.runtuh.com/2017/01/sunway-lagoon-buy-1-free-1-thursday-promo.html?m=0