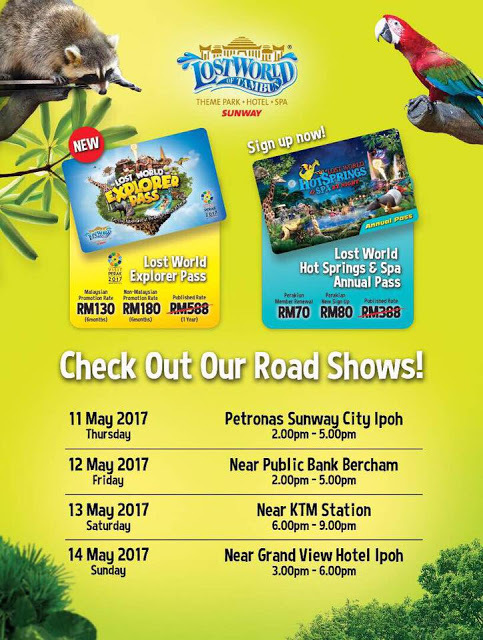 Sunway Malaysia Lost World Of Tambun Explorer Pass & Hot Springs & Spa Annual Pass Perak Resident Promotion Rates
Have you sign-up? Catch our roving team this 11-14 May to get your Lost World Explorer Pass or Lost World Hot Springs & Spa Annual Pass at promotion rate.
Annual Pass at Lost World of Tambun & Hot Springs & Spa by Night
Enjoy unlimited access to Lost World of Tambun, Perak attractions like never before with these amazing passes.
LOST WORLD EXPLORER PASS
Experience exciting adventures, this Visit Perak 2017! Get your Lost World's Explorer Pass at an awesome price and open up your holiday to a world of amazing experiences!
Get unlimited daily access to amazing parks for SIX months.
Lost World Amusement Park, Lost World Water Park, Lost World Tiger Valley, Lost World Petting Zoo, Lost World Tin Valley and the Lost World Hot Springs & Spa by Night.
Malaysians Price: RM130
Non-Malaysians Price: RM180
LOST WORLD HOT SPRINGS & SPA BY NIGHT ANNUAL PASS
Your pass to a holistic lifestyle: A unique majestic sanctuary for visitors to come and experience rejuvenating magical moments in mineral-rich and natural bio-thermal hot spring pools. Slip into the soothing warm water and feel your worries wash away as you rest and revive.
This online package is for Non Perakian who can't enjoy Perakian-only (with 08 or 38 IC) promotion.
Online Rates: RM198
Normal rates: RM388
Follow our Facebook page for Perakian-only special price roving schedule below. Terms & conditions apply.
New Registration For Perakians: RM80
Renewal For Perakians: RM70
Link
---
This is a companion discussion topic for the original entry at
http://harga.runtuh.com/2017/05/sunway-lost-world-of-tambun-annual-pass-perak-citizens-promo-rates.html