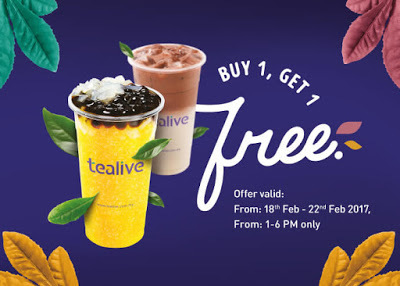 Tealive Malaysia (Formerly Chatime) Buy 1 Free 1 Promotion
Buy 1 Get 1 FREE Offer is valid from 18th Feb - 22nd Feb 2017, from 1PM - 6PM only.
If you're a Thirstea cardholder, don't worry - your benefits and privileges will still remain.
Q. What happened to Chatime? A. All Chatime outlets have been rebranded as TEALIVE with improved quality products, and we are still here to serve you. Q. Will outlet locations remain the same? A. Yes. Q. I have a Chatime voucher with me. Can I use it at TEALIVE? A. Yes. The voucher is valid up to the stated expiry date.
Q. Is there any price change? A. No.
Q. Is there any change in the menu? A. Yes. The new menu carries high quality products made with imported ingredients.
---
This is a companion discussion topic for the original entry at
http://harga.runtuh.com/2017/02/tealive-buy-1-free-1-promo-chatime-offer.html?m=0