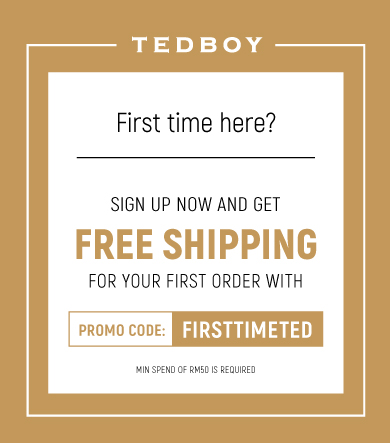 Your first time ordering at Tedboy Website?
Enjoy free delivery on your first order, with minimum spend of RM50 per order! Use promocode FIRSTTIMETED upon checkout, to enjoy ZERO shipping fees. Valid till 31st December 2018 only, so hurry now!
About Tedboy:
At Tedboy, providing the best to our consumers is our priority. To us, that means putting our consumers first in every step of decision we make–from the quality of products by using premium and also sustainable ingredients that does not harm the environment; to listening to our consumers on what they would like to see on the shelves as well as critiques and comments that would help us improve and serve our consumer better.
What We Offer:
We produces baked products freshly baked daily-breads, buns, pastries, cakes and more. All of our products have no preservatives, no additives, and no artificial flavourings; and we have vegetarian options too! We also can customise your order such as theme cakes, theme cupcakes, catering platters and packages for parties and small gatherings, and more.
What You Can Send Via Tedboy?
Many of our customers send surprise birthday cakes and cupcakes via our online platform. Some even send gifts (our merchandise stainless steel thermos tumbler is a popular item as non-food gifts), and more! Besides that, we offer hassle-free serving options for catering, as all come with pre-prepared recyclable trays for easy serving.
So why wait? Explore and check out our website now


Website: www.tedboy.com