You read this first here. Please like
Durian Runtuh Facebook page
and follow
Harga Runtuh Twitter
to receive more freebie deals and latest discount promos!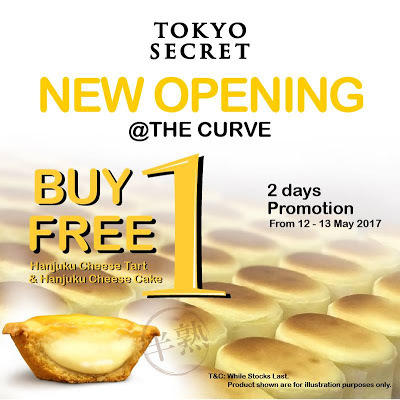 Tokyo Secret Hanjuku Cheese Tart & Cheese Cake Buy One Free One The Curve Special New Opening Promotion
We are celebrating the new opening of our outlet at The Curve (Lot GZF-1) and there will be 2 Days Buy 1 Free 1 Promotion for Hanjuku Cheese tarts and cheese cakes from 12 to 13 May. Come and try our new tea flavoured drinks as well.
*Free item will be the same item purchased.
---
This is a companion discussion topic for the original entry at
http://harga.runtuh.com/2017/05/tokyo-secret-buy-1-free-1-hanjuku-cheese-tart-cake-opening-promo.html?m=0