Tony Roma's 10% Discount Using Touch 'n Go Card (Dine-in & Ala Carte Only) Until 31 December 2016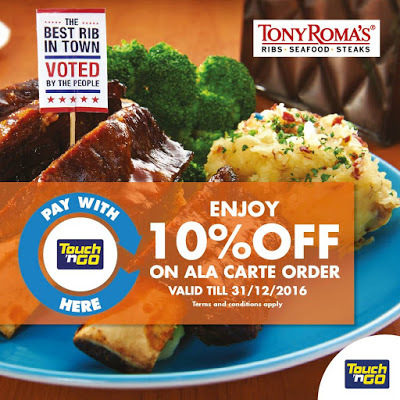 Touch 'n Go Malaysia Tony Roma's Discount Promotion
Pay even less, gain even more at TONY ROMA'S MALAYSIA when you pay with Touch 'n Go card!
Touch 'n Go Malaysia Tony Roma's Discount Promo Terms & Conditions
Offer is valid from 15 January 2016 till 31 December 2016.
10% discount on ala carte order upon payment with any Touch 'n Go card only.
Valid for dine-in only
Valid at all Tony Roma's outlets in Malaysia except Viva City Mall, Kuching.
Not applicable with Set Lunch, Timeout, Ribs Seafood Steak (3-6pm) and with any others on-going promotion, offers, vouchers & discounts.
Terma-terma & Syarat-syarat Diskaun Promosi Touch 'n Go Malaysia Tony Roma's
Tawaran sah dari 15 Januari 2016 hingga 31 Disember 2016.
Diskaun 10% untuk pesanan 'ala carte' dengan pembayaran menggunakan kad Touch 'n Go sahaja.
Sah untuk 'dine-in' sahaja.
Sah di semua cawangan Tony Roma's di Malaysia kecuali Viva City Mall, Kuching.
Tidak sah untuk set makan tengahari, 'Timeout', Stik 'Ribs Seafood' (3pm -6pm) dan untuk promosi-promosi, diskaun-diskaun, baucar-baucar dan tawaran-tawaran yang lain.
Link
---
This is a companion discussion topic for the original entry at
http://harga.runtuh.com/2016/11/tony-romas-discount-promo-touch-n-go-cards-payment.html?m=0