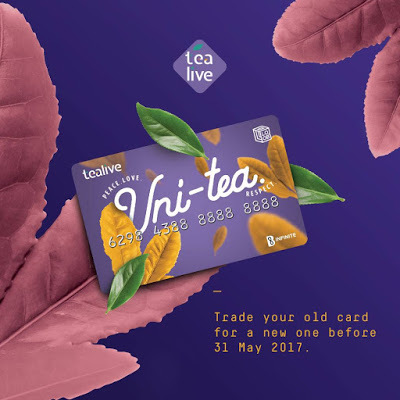 FREE Tealive Asia Uni-tea Card Trade-in Exchange Program Using Chatime Malaysia Thirstea Loyalty Member Card
Time to ring in the old for the new. Trade in that old card for an all-new Uni-Tea card for FREE before 31 May 2017!
What do I do with my old Chatime Thirstea card?
Exchange your old card at any of our outlets for free from March to May, 2017. While stocks last.
How do I sign up Tealive Uni-tea loyalty card?
Head over to any of our Tealive outlets to get your Uni-tea member card at only RM10.60. Upon sign-up, get a complimentary drink on us!
Malaysia Tealive Unitea Cardholder Benefits
Enjoy our exciting
10-to-10 promos on Tealive Thursday if you're a Uni-tea cardholder
! Offer valid every Thursday till May 2017.
Complimentary Drink Upon Sign-up

Sign up to be a Tealive Unitea member for only RM10.60 and receive a Free Drink* of your choice (RM6.50)!

Receive Birthday Tokens

Enjoy Birthday Tokens which you can use to redeem a Free Drink* (RM6.50) on your birthday every year. Token is valid for use within 1 year.

Earn BPOINTS & Pay Less

BPOINTS collected in Tealive Unitea Card or other types of BCard can be used to redeem free drinks at outlets nationwide (650 Bpoints = 1 drink worth RM6.50) In fact, no minimum points for redemption. Start ordering your drink with BPOINTS and pay less!

Tealive Unitea Ringgit (NEW!)

Now you can store value in Tealive Unitea Card, allowing cashless transaction, greater convenience and more rewards!!

Members-Only Promotions

Get members-only offers such as Tealive Unitea Deals, and receive latest updates on these promotions, giveaways and contests.

Lifetime Membership

No renewal fee or card replacement needed when you sign up for a Tealive Unitea Card. Enjoy your benefits all year round, every year!
Link
---
This is a companion discussion topic for the original entry at
http://harga.runtuh.com/2017/04/trade-in-chatime-thirstea-card-free-tealive-unitea.html