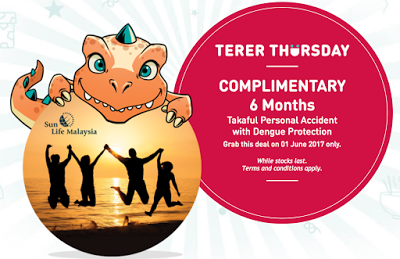 MyUMobile Sun Life Malaysia Insurance Takaful Personal Accident (PA) Coverage With Dengue Protection
Exclusively for U Mobile subscribers with MyUMobile app: Complimentary 6 months Takaful Personal Accident with Dengue Protection
Coverage period: 16 Jun 2017 - 15 Dec 2017
Eligibility: Malaysian or Permanent Resident in Malaysia aged between 16 - 64 years old
Managed by: Sun Life Malaysia Takaful Berhad
Summary of coverage benefits:
Death or Permanent Disablement due to Personal Accident/Dengue Fever: Sum Covered RM20,000
Snatch Theft (one time claim only): Sum Covered RM250
WE CARE FOR YOUR FINANCIAL SECURITY
No one can predict the unexpected, but who wouldn't want financial protection if that happens?
This 6-month complimentary plan provides 24/7 worldwide protection against the loss of life or for any accident, whether it happened during business or personal trip. It also covers death, disability & bodily injury arising from Dengue Fever.
My U Mobile App Terer Thursday Freebie Terms & Conditions
This e-voucher is exclusive for MyUMobile app users only.
10,000 e-vouchers are available for grabs on 1 June 2017 only. Grabbed voucher will be saved into 'My Deals' in your app.
Each e-voucher may be redeemed from 1 June 2017 to 15 June 2017 at Sun Life Malaysia's microsite at https://mysunlife.sunlifemalaysia.com/uMobile/main.jsp
The e-voucher is not exchangeable for cash
You can only redeem the e-voucher once and the e-voucher cannot be combined with other promotions, offers or discounts
You have signed up!
You will receive a confirmation email at your given email address within 3 working days. A SMS notification will be sent to you when your coverage starts on 16 June 2017. Please
click HERE
for the master contract to view the complete terms and conditions of this protection plan (pdf).
For further assistance, kindly contact: Sun Life Malaysia Customer Careline 1300-88-5055
Link
---
This is a companion discussion topic for the original entry at
http://harga.runtuh.com/2017/06/u-mobile-deal-free-sun-life-takaful-personal-accident-insurance.html